BATON ROUGE, La. -- For a guy who's won a national championship, four bowl games and 51 games total in his first five seasons at LSU, Les Miles can be a bit of a polarizing figure depending on who you talk to these days on the Bayou.
It's not that he's not a nice guy, because he is.
It's not because he hasn't won a lot of football games, because he has. In fact, his 51 wins are the most during a five-year stretch of any LSU coach in history.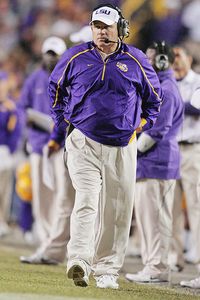 Derick E. Hingle-US PRESSWIRE
Coach Les Miles knows that winning is everything at LSU.It's not because he hasn't committed himself to LSU, because he has. He and his family are entrenched in the Baton Rouge community, and there's nowhere else he would rather be coaching football.
What's happened to Miles these last couple of years is that he simply hasn't won enough.
And in the realm of SEC football, those cycles are as sure to come as death and taxes.
"It doesn't take much (to fall off in the SEC)," Miles said. "You have to hit on all cylinders and continue to hit on all cylinders in this league."
The Tigers won 34 games in Miles' first three seasons, including the national championship in 2007. With the head job at his alma mater, Michigan, hovering out there, Miles received a huge raise that took him to $3.751 million annually, making him one of the three highest-paid coaches in college football at the time.
But in the last two seasons, the Tigers have taken a dip in the West, which has coincided with Alabama's ascent to the top of the division.
And, yes, it makes it even worse in these parts that Nick Saban is running the show at Alabama.
The fact that the Tigers have lost nine games over the last two seasons is one thing. But even more damaging is the fact that they've lost most of the games that "count."
LSU is just 1-8 the last two years against teams that finished the season nationally ranked in the final polls. That includes an 0-6 drought against Alabama, Florida and Ole Miss.
The meltdown on the sideline at the end of the Ole Miss game last season only intensified the fans' disenchantment, many of them worrying this downward blip in the program was fast becoming a trend with no end in sight.
Miles' message to the LSU fans is simple: He's not happy, either, with what's transpired the last two seasons and he's committed to righting the ship.
It's the reason he's overhauled both his offensive and defensive staff the last two years. It's the reason he's tweaked some things about this spring practice, in particular how competitive it's been at every position. The Tigers close the spring Saturday with their annual spring game (ESPN2/ESPN 360, 4 p.m. ET).
At the same time, Miles doesn't believe the Tigers are that far away from winning another SEC title.
"I think we're in step," Miles said. "There's a want to re-focus and be excellent. I think it's in the coaching staff and the players, certainly. I think we should compete for the title, but I always think we should compete for the title."
He understands the restlessness of the fans. It's the nature of the job. But he also chooses not to immerse himself in it.
"I stay pretty insulated from it, to be honest with you," Miles said. "I'm not a guy who gets on the Internet, nor am I a guy who entertains Internet chatter. I judge what's going on in this program by what's going on inside this building. Understanding that makes me have more of a comfort about the direction we're headed.
"I think the perimeter in every program – the Floridas, the Oklahomas, the Alabamas, wherever the perimeter is -- doesn't really have accountability. I promise you this: There's nobody more critical of this program than myself.
"I like where we're going."
Mike Serio is one of those fans who is genuinely concerned, but he's also not one of those fans who's ready to push Miles out the door and start over.
Serio, who owns a popular po-boy and deli restaurant in New Orleans, is about as loyal as it gets. He's been to 320 straight LSU football games (home and away) and hasn't missed one since the 1983 season.
"I'm not one of those fans who's going to knock down the team and get on the radio and run them down," Serio said. "I don't believe in that. I supported Les when he came in here, when he won the national championship, and I still support him. But deep down, I'm disappointed in what's happened to the program the last couple of years. It hurts me to say it, but we just haven't looked like a very well coached team at times."
Serio said there are some fans who will never give Miles the credit he deserves for winning the national championship and are hung up on the fact that he won primarily with players recruited by Saban.
"I think he did a good job coaching those teams, especially all he had to deal with his first year with the hurricanes," Serio said. "He also did some things Nick never did here, like having two good seasons in a row. It was a little more up and down when Nick was here."
While Miles might be hesitant to classify this as a crossroads season for the program, many of the fans aren't.
"I can tell you one thing that won't happen with LSU football is that it will be allowed to hit rock bottom before a change is made. Those days are over," Serio said. "Les just needs to regain his focus. The program needs to regain its focus. In a lot of ways, I think they got fat and happy after that championship.
"I'm still behind them, but this is an important year."
The LSU players insist they feel more excitement than pressure, many of them pointing out that they were two or three plays away last season from being an 11-win team.
"A lot of people are sleeping on Coach Miles. A lot of people are sleeping on us," LSU running back Stevan Ridley said. "We've had the athletes here the last couple of years. We just haven't been able to put it together. We lost a quarterback [Ryan Perrilloux] we thought we were going to have and a freshman had to come in and play for us. That set us back a little bit.
"But we have the players here. There's no doubt about that. The games we lost last year were close games. We're right there. I know we lost a lot of players, but I honestly think we're going to be a better team. Nobody's spot is guaranteed, and we're hungry to get back to where LSU is supposed to be."
Senior middle linebacker Kelvin Sheppard was around to taste the national title in 2007. He's determined to taste it again.
"We're very close, as in tomorrow close," Sheppard said. "It's just a matter of us putting all the pieces together, because we've got them. I can't wait for this upcoming season."