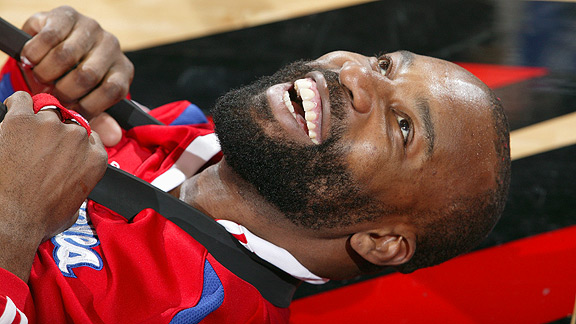 Andrew D. Bernstein/NBAE via Getty Images
Baron Davis is ready to take over the play calling in Los Angeles.
The thing you have to realize about Baron Davis is that this wasn't what he had in mind.
When he signed with the Clippers in July 2008, it was with a certain expectation: Davis would return to his beloved hometown and join forces with Elton Brand to form a powerful pick-and-roll tandem. Though Davis and Brand have vastly different temperaments, they share a common worldview and had a close friendship. Both are like-minded renaissance men with expansive passions that extend far beyond the basketball court. They've each dabbled in the entertainment industry, with successful results. Each places a premium on philanthropic causes. For all of Davis' moodiness on the court, he rarely, if ever, turns down a request to perform charitable deeds in the community he loves dearly.
Davis was prepared to create beautiful music with one of his best friends ... but you know the rest of the story. Brand snuck out of town in the middle of the night to sign a lucrative $82 million deal with Philadelphia, leaving Davis at the altar.
All of the sudden, Davis was alone in Los Angeles, assigned to a coach in Mike Dunleavy notorious for being a half-court fundamentalist. Former Clippers forward Corey Maggette, who feuded with Dunleavy, told Tim Kawakami of the San Jose Mercury News at Warriors media day in September 2008 that Davis was in for "a rude awakening" in Los Angeles. Maggette said that he expected his first call from Davis to be, "Man, I didn't know we had to do all this! I didn't know we had to watch film 45 minutes before practice!"
By and large, Maggette's prophesy turned out to be true. The Clippers weren't two weeks into the season before Davis told the Los Angeles Times' Bill Plaschke that Dunleavy's thick playbook was cramping his style. "There's definitely a disconnect there. I've never had so many plays in my entire career," said Davis. "I have to figure out how to fit more into his system, and he has to figure out how to relax his grip."
Not the first time
In November 2007, Davis' Warriors were in town for an early-season matchup at Staples Center with the Clippers. The Dubs were working out at Davis' old haunt, Pauley Pavilion on the campus of his alma mater, UCLA. Davis was waxing nostalgic about his days at Pauley, when he mused, "We should have a banner up there: the only team to make the tournament without a coach." The coach in question at UCLA during Davis' years was the embattled Steve Lavin.
By most accounts, during his formative years in Charlotte, a young Davis had a decent relationship with his first coach, Paul Silas. The same cannot be said for the Hornets coaches who followed Silas. Davis was constantly at odds with Tim Floyd, then Byron Scott. Soon after his trade to the Warriors in 2005, Davis told the New York Times' William C. Rhoden, ''Tim Floyd was a guy from college who hadn't won in the league and he still had that college coaching style of a dictatorship. He didn't want to listen. Playing with Coach Scott, it was more like he was a dictator. It was his way or the highway."
Davis and then-Warriors coach Mike Montgomery got along initially, but it wasn't long before Davis clashed with his traditionalist coach. But once Montgomery left Oakland, Davis finally got what he always wanted: The ultimate laissez-faire guerrilla general, Don Nelson. For Davis, Nelson was a godsend, a coach who not only tolerated Davis' freelancing, but designed his game plan to maximize those instincts.
Under Nelson in 2006-07, Davis had a blast. The Warriors led the NBA in pace factor as Nelson allowed Davis to run the show. Davis recorded the highest player efficiency rating (PER) of his career (21.0), and was the catalyst for possibly the greatest upset in NBA postseason history when the Warriors shocked top-seeded Dallas in the first round of the 2007 playoffs. Davis emerged as a folk hero. Celebrities jetted up to Oakland from Los Angeles to witness Davis' electrifying performance. In the six-game series, he averaged 25.3 points per game on a true shooting percentage of 62.2. Although the Warriors bowed out in the conference semifinals to Utah, Davis exploded for one of the most enduring dunks in recent NBA history, when he posterized Andrei Kirilenko.
The Nelson/Davis marriage seemed eternal, but in the season that followed the Warriors' improbable playoff run, the bond between the two deteriorated. In the Warriors' penultimate game of the season -- one they had to have to cling to playoff contention -- Nelson benched Davis for the entire second half after Davis put up a stinky 2-for-13 line in the first half and failed to play a lick of defense.
Weeks later, Davis was gone.
A rocky start in Los Angeles
Some of Davis' comments about disconnects with Dunleavy and the heavy volume of x's & o's had real merit. Creative coaches find a way to maximize the strengths of their principal talent, and Davis was hindered somewhat by Dunleavy's commandeering each set from the sidelines. But Davis' worst enemy during his maiden voyage as a Clippers player was his own conditioning, something Davis readily acknowledged following the Clippers' disastrous 19-63 season in 2008-09. Davis was overweight and, by his own admission, lost much of the explosiveness that guided his game in Golden State. He converted only 48 percent of his shots at the rim in 2008-09, and was an indiscriminate chucker off the dribble. It took Davis until February 25 to shoot better than 50 percent in a game.
More generally, he appeared uninspired and lackadaisical on the court. His defensive rating of 111 was the worst of his career, some of it attributable to his being out of shape, some of it due to disinterest. There were even questions that Davis might be intentionally trying to sabotage Dunleavy's tenure with the team, a sentiment expressed to me by more than one executive around the league.
Davis is a thoughtful, expressive guy who isn't afraid to be introspective. To his credit, he was self-critical about his first year with the Clippers. In August, he told Ramona Shelburne, "I sucked. I sucked last year. I admit it. What (else) should I say?"
Sophomore Surge
Even while he logged arguably the worst season of his career, life in Los Angeles treated Davis well. He was close to his family and lifelong friends. There were club openings, drinks with the industry crowd at Chateau Marmont, movie premieres and a chance to add to his portfolio of extracurriculars.
None of that erased the embarrassment of his 2008-09 performance, and over the offseason he focused on his conditioning. Davis lost more than 15 pounds and worked out incessantly. At Clippers media day in September, he was absolutely ripped. Once the season started, teammates took notice. Marcus Camby and Eric Gordon never missed an opportunity to talk about Davis' re-dedication. It's one thing to be the titular face of the franchise, but the efficacy of that leadership is hollow unless it's accompanied by on-court performance.
Davis has revived his game. He's raised his PER from a mediocre 14.54 in 2008-09 to an impressive 18.38. His assist rate is the highest of his career. The true shooting percentage is back up over 50 percent. There are fewer ill-advised jumpers and that old explosiveness is back -- Davis is finishing at the rim at a very respectable 56.1 percent clip this season.
The numbers speak for themselves, but beyond the stats, Davis has established himself as a leader both on and off the court. He's cultivated a smooth rhythm with a pick-and-roll partner, Clippers center Chris Kaman. The two mouthy vets have an old married couple vibe to their relationship, but Davis' willingness to deliver the ball how and where his center likes it has been a pivotal part of Kaman's restoration from last season's foot injury. Most nights, Davis has re-committed himself to using his muscular frame to challenge opposing point guards on both ends of the floor. Davis' transition game is the stuff of highlight reels, but his efficiency numbers suggest he's been most potent over the course of the league as a post-up guard. One scout told me that Davis is most dangerous not in the open court, but at the left elbow bullying smaller guards. Despite his preference for winging it, Davis was a willing post player for Dunleavy.
The Clippers' surge in the days before and after New Year's produced a palpable feeling of goodwill around the team. Davis' buzzer-beater to defeat Boston on December 27 was his biggest moment as a Clipper. In the stretch that followed, Dunleavy and Davis independently spoke of their growing relationship.
The Clippers' recent slide, including humiliating losses to New Jersey and Minnesota, washed away the good feelings. Davis' old protests against Dunleavy's tight grip on the Clippers' offense and appeals for more freedom to improvise resurfaced. Dunleavy answered back that Davis' desire for a "free-flowing" offense was already a part of the Clippers' game (He was right. The Clippers rank 8th in the League in percentages of possessions used in transition). Dunleavy further argued that an open court offense was contingent on getting defensive stops, something the Clippers weren't doing during their slide.
Although Dunleavy's arguments were logical, Davis was right about this: The Clippers offense was stale and going nowhere. They're 23rd in the league in offensive efficiency, and those half-court sets just weren't producing buckets. On their recent 2-6 road trip, the Clippers topped 100 in offensive efficiency only once -- in their finale against Atlanta, a game in which they surrendered a third-quarter, 13-point lead and lost.
After a six-and-a-half year run, Dunleavy was out as the Clippers' head coach by Thursday afternoon.
It's his team now
On Friday morning at the Clippers training facility in Playa Vista, Davis was in the weight room brimming with energy. As he worked out on the Reebok core board, Davis belted out every rhyme to Makaveli's "Against All Odds." Over in the corner of the gym, Kim Hughes held his first press avail as Clippers interim head coach. Hughes quickly established what kind of offensive blueprint he's drawing up for the Clippers.
"My style would clearly be running," Hughes said, before elaborating on where he departs from Mike Dunleavy. "[Dunleavy] called a lot of plays for our guys and they're very good plays," Hughes said. "I'll give the players a little bit more freedom. Twofold. Because I don't know as many plays as [Dunleavy] does. And I don't think our players want to hear me call a lot of plays. So I'll leave a lot of the play-calling up to Baron … and we will try to push the ball whenever possible."
For Davis, Hughes' vision couldn't be more inviting. When Davis is happy, he's very politic with the media. He managed to heartily endorse Hughes' goals without evoking any residual qualms he had with Dunleavy's system (and praised Dunleavy's legacy at every opportunity).
"We should try to play in transition where we can all benefit from our talents," Davis said. "I think it's going to be up to me to manage the game -- who gets the ball, how we play.
"We definitely want to run more," Davis continued. "I think the element of fun and excitement were far and few in between."
Davis' funhouse opens on Saturday night as a struggling Spurs team, losers of seven of their last 11, comes into Staples Center. The Spurs rank 24th in pace factor. The matchup seems like an optimal opportunity for Davis to initiate his unshackled transition offense. That may mean fewer touches for Kaman, who has stated repeatedly he performs best in Dunleavy's pre-ordained sets, deliberately picking apart slower big men on the block en route to the basket or with kickouts to stationary shooters.
Whether Davis orchestrates an open court free-for-all, or merely splits the difference between Nelson and Dunleavy with some early offense that utilizes Kaman on quick pick-and-pops from 17 feet, one thing is certain: The success and failure of the Clippers from now until April 14 rest on Davis' shoulders. With his former coach now upstairs busying himself with scouting the incoming draft class, Davis can't gripe about the playbook weighing down his knapsack.
He wanted his freedom and now he has it.