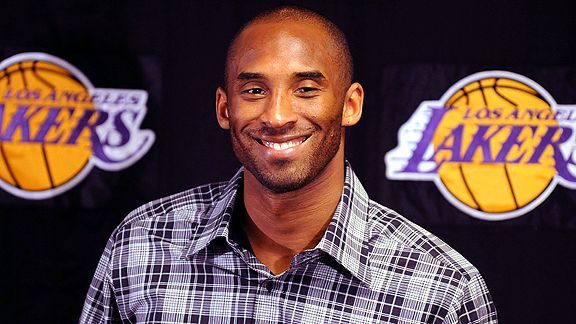 Andrew Bernstein/NBAE/Getty Images
Kobe Bryant on the day he signed a three-year deal reportedly worth nearly $90 million.
LOS ANGELES -- At about 11 p.m. Pacific time Friday night, after the Los Angeles Lakers beat the Utah Jazz 106-92, Kobe Bryant strolled into a news conference room, set a pair of sunglasses on the lectern and discussed the three-year contract extension he signed earlier in the day that will keep him with the Lakers through 2014. Here are selected highlights.
Initial thoughts on signing his extension: "It's very rare to have a player play his entire career in one city. I'm very excited about it."
On whether this means he will finish his career as a Laker: "Pretty much."
On whether this could be the last contract he signs: "It's possible. I doubt it, but it's possible."
On whether he weighed opting out after this season: "I didn't weigh anything. I knew I was going to be here.
"[Both sides] both knew. We heard a lot of people talk, and stuff like that. We both did a great job in terms of it not being a distraction, kind of keeping it below the radar, just working at it diligently."
On having the team's core players -- Bryant, Pau Gasol, Andrew Bynum, Lamar Odom and Ron Artest -- all under contract beyond next season: "I told them one more person. I'm waiting for him next."
On the importance of having Phil Jackson be his coach for at least part of the extension: "It's a big part of me as a player. I enjoy playing for him. I made it very clear to him today that I would love to see him be back. That's all I'm going to say about that."
More on the contract, and whether he will be the greatest Laker of all time by the time it's over: "It's truly a huge honor. When I walked in today to sign the contract they had a picture of me on the wall of the first contract I signed when I was 17 … and I had no facial hair. I can remember the day like it was yesterday. Fast forward to today and it's really a blessing to be in one city.
"The honor comes in being a part of that conversation. To say that one Laker is the greatest Laker of all-time is impossible because of all the greats that have played here. The challenge that I have is making that discussion as interesting as possible. Winning a couple more championships will certainly do that. Hopefully we'll get it done."
On whether he will play for the U.S. national team this summer: "We'll see. We'll see how the season finishes up. Obviously my priority is here. So we'll see what happens.
What his participation depends on: "How my body feels, things like that. Revisit the [fracture in his right] finger, see if there's anything we can do in the postseason, something I need to do surgically, stuff like that."