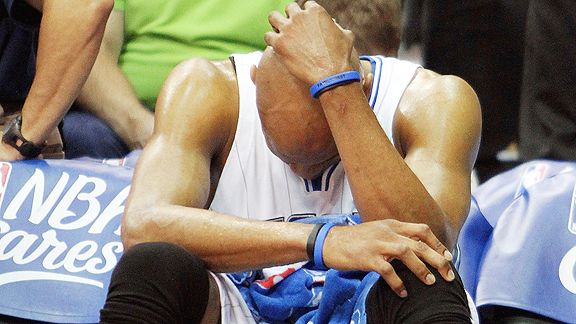 Doug Benc/Getty Images Sport
Vince Carter kicked off the playoffs with 15 missed shots and six turnovers.
In his first game of these playoffs, Vince Carter was about as bad as NBA players get. The Magic made the NBA Finals last year, with an up-and-comer shooting guard, Courtney Lee. But they did that toughest of things, and traded a player they really liked for the one who would hopefully get them over the top.
Carter was that player. He finished Game 1 having made four of his 19 shots, to go with six turnovers. He missed all five of his 3-pointers. The Magic, many an insider's pick to win this year's title, needed some good fortune to beat the Charlotte Bobcats at home.
The problem was the guy they're paying millions to be the solution.
It's unfair to judge a player on one game, however, and on Wednesday night Carter was able to bounce back nicely, and in so doing added a little kindling to the embers of the idea that he's ready to lead a championship team.
Eddy Rivera of Magic Basketball describes Carter's key contributions:
From the 5:35 mark until the end of the period, the Bobcats could do nothing to stop Carter from creating, passing, and scoring with the basketball in a half-court setting. Van Gundy stated beforehand that he wanted to see Carter attack the basket more, particularly in the pick and roll, and guess what? That's what happened. Carter was involved in the 2/5 pick and roll with Marcin Gortat or the 1/2 pick and roll with Jameer Nelson on almost every possession and the results speak for themselves.

It's important to note that, at this point, Orlando's lead was 10.

THIRD QUARTER

[5:35] Carter makes free throw 1 of 2

[5:35] Carter makes free throw 2 of 2

[5:01] Carter makes layup (Nelson assist)

[3:40] Carter makes layup

[2:19] Carter makes driving layup

[1:40] Lewis, 23-foot three-point jump shot (Carter assist)

By the time the damage was done, the Magic led by 20 heading into the fourth quarter and that was all she wrote.