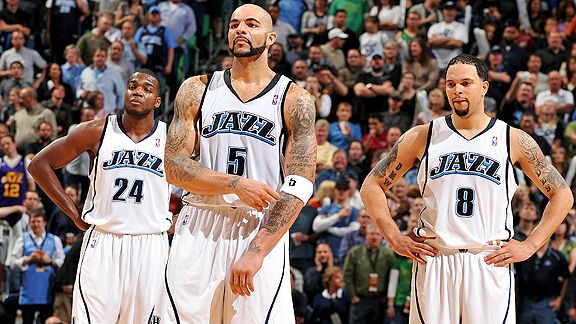 Garrett Ellwood/NBAE/Getty Images
The Jazz stand tall.
SALT LAKE CITY -- It's not that Utah Jazz point guard Deron Williams isn't an emotional player, but during the course of a game, that palette of emotions rarely features a smile. So when he flashed a big grin as he headed to the bench after Denver called a desperation timeout, it was obvious that things were falling into place for the Jazz. On the preceding possession, Williams picked off an errant pass on the defensive end and raced down the floor for an easy layup.
Jazz by 20 with fewer than nine minutes to go in Game 3. Utah ultimately won the game going away, notching a 105-93 victory to take a 2-1 series lead.
Leading up to Friday night, acting Nuggets head coach Adrian Dantley made no secret of his intention to devote inordinate attention to Williams, who burned the Nuggets for 59 points and 25 assists in the series' first two games. While Williams didn't record the gaudy numbers he put up in Denver, he still finished with 24 points and 10 assists on a very efficient 8-for-14 shooting from the floor. In doing so, he fell one point short of being only the second player in NBA history to rack up 25 points and 10 assists in each of the first three games of a playoff series (Michael Jordan, first round, 1989).
More notable than Williams' individual production on Friday night was his leadership of the offense. The Jazz point guard made the Nuggets pay for loading up on him. Call it the Law of Basketball Reciprocity: A defense can't commit disproportionate attention to one player or area without surrendering an advantage elsewhere on the floor.
"[Denver] made a commitment to keep Deron boxed in," Jazz coach Jerry Sloan said. "Deron has played against that stuff, and if our other people do their job, we can get decent looks at the basket."
Those decent looks materialized all over the court against a Denver defense that seemed off-kilter for most of the night. Once Williams worked out of the trap, open shots were available all over the floor.
"They kept doubling me," Williams said. "I got it to the middle. We were able to run some pick-and-rolls and hit the middle guy and get down the lane. We patiently waited."
For much of the first half, that "middle guy" for the Jazz was othersized forward Paul Millsap. The Jazz's supersub took over the game in the second quarter, when Utah built the lead it would never relinquish.
"Oh my God he was a monster tonight!" Boozer said. "That's the Paul Millsap we love."
Millsap had a perfect first half -- 18 points on 9-of-9 shooting from the field, along with eight rebounds. He finished with 22 and 19, a source of some disappointment for Boozer.
"I told him, 'I didn't know you had 19 boards,'" Boozer said. "'If you'd let me know, I would've gotten you one more!'"
Millsap set up shop just above the baseline, where the Nuggets laid out a welcome mat. A quick shift in balance by Denver's interior defenders was all it took for Utah's perimeter players to find Millsap with their typically crisp passing. When Millsap wasn't being fed on the block, he was gobbling up offensive boards or taking the likes of Chris Andersen off the dribble from the elbow.
"I just wanted to be aggressive, try to establish myself down low," Millsap said. "There was an opportunity down there, so we attacked them."
Asked about Boozer's offer of a 20th rebound, Millsap demurred.
"That wouldn't have been right," Millsap said with a chuckle. "I wouldn't have accepted it."
As sound as the Jazz were offensively, the Nuggets were disoriented. Consider the matchup at center, where stand-in Kyrylo Fesenko outscored Nene 9-8 in 15 fewer minutes of playing time (and Fesenko actually matched Nuggets point guard Chauncey Billups in assists with three). Prior to the series, Dantley cited passing the ball and getting Nene touches as his two primary goals on offense. On Friday night, the Nuggets failed miserably on both accounts. They recorded only 12 assists, while Nene managed just four shots from the field to go with eight free throws.
"What I'm most disappointed at is the way we failed to compete tonight as a team," Nuggets forward Carmelo Anthony said. "We knew we were going to be in a dogfight tonight. Nobody said it was going to be easy. As far as our effort, I'm highly disappointed."
Anthony and Billups were the only two Nuggets to score in double-digits, with 25 points each. Denver's troika of big men (Kenyon Martin, Nene, Andersen) were particularly ineffectual, combining to shoot 3-for-15 from the field. Credit the Jazz defense. After a harried first quarter, Utah did a solid job denying post entry passes into the Nuggets' big men, and plugged passing lanes to the weak side (Utah recorded 10 steals), causing the Denver offense to stagnate and rush shots. The Nuggets' offensive output was lousy, but their interior defense might have been worse.
"Defensively, we've got to do a better job playing their post guys," Dantley said. "They scored a lot of points in the paint. We know we're supposed to double when they get in the paint, and we didn't do that."
After taking a double-digit lead early, the Nuggets disintegrated against a Utah offense that finally started to knock down shots after posting a 32 percent shooting clip in the first quarter. From there, Denver played a game of whack-a-mole against Utah's constantly evolving, well-tuned attack.
"I thought we had control of Boozer and Williams in the first half," Anthony said. "Once we made adjustments to gain control of Millsap and Matthews in the second half, Williams and Boozer woke up."
Denver's tactical failures weren't pretty in Game 3, but the Nuggets also have to be concerned about disposition. Though they suffered a grueling loss on their home court in Game 2, the Nuggets never lacked for effort. But on Friday night, they looked like a dispirited, directionless bunch, especially in the second half when they were blown out of the arena. Billups' selection of off-balanced contested jumpers was uncharacteristic and hurt his team. Anthony picked up his fifth foul on a silly hack in the backcourt toward the end of the third quarter, after which Denver imploded. Thirty seconds later, Billups botched an easy transition opportunity with a lazy pass downcourt. On the ensuing possession, Andersen picked up a technical foul. It was the sort of meltdown to which the Nuggets are occasionally susceptible.
After the game, the Jazz were buoyant -- though measured -- in victory. Quality teams rarely duplicate a performance in the postseason and the Jazz are well aware that Denver has the talent to bounce back.
"You know, they'll try something different the next time, and we'll have to be ready to adjust," Sloan said. "That's what the playoff are."