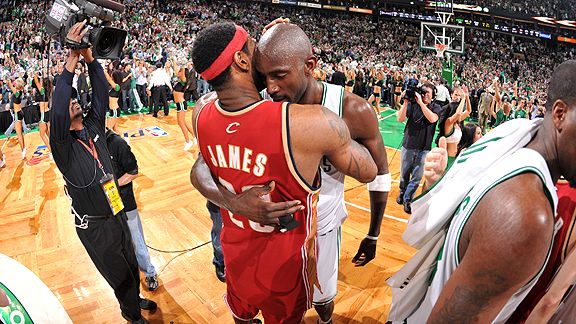 NBAE/Getty Images
Everything on Thursday was so LeBroncentric that you probably didn't even see Kevin Garnett when he and LeBron James hugged after the Cavaliers tumbled out of the playoffs.
You might have seen Garnett, but you didn't really process him, or consider what he means in this whole LeBron saga that took on the feel of a Homeric epic this week. Garnett should serve as a marker, or perhaps a possible endpoint for the LeBron story.
James is already way ahead of Garnett by 25, an age at which Garnett was still two years away from winning his first playoff series. James has won at least one playoff series for five consecutive years (the longest active streak in the league) and reached the conference finals twice and the NBA Finals once.
But to take the next step and actually rule over the NBA, King James might have to leave his initial team. Just like Garnett did.
And what if LeBron needs to win a championship in the manner Garnett did, as part of the council instead of the tribal leader? What if LeBron isn't a top solo rapper like Biggie or Tupac and is better when collaborating, like ODB?
As a man consumed with stardom, LeBron wants his name above the title on the movie poster, but his first instinct as a player is to share. He has become more aggressive and dominant in the fourth quarter because he was told that's what superstars are supposed to do. He learned his lesson from the first game of the 2007 conference finals, when he took only three fourth-quarter shots and passed to Donyell Marshall on the final play, then had to deal with two days of fallout after Marshall missed the shot and the Cavaliers lost. If you're going to get the blame you might as well shoot it yourself, a lesson he took to the extreme in his "48 Special" night four games later.
It's not instinctive -- you might recall his infamous admission to ESPN Magazine that he didn't have the same basketball homicidal ways as Kobe Bryant – but he's so talented that he can adapt to anything. He was able to treat the nebulous command to "be more clutch" and do so, in the same manner he raised his shooting percentage from 42 percent as a rookie to 50 percent this season. So he added big shots to his resume, most notably that three-pointer to beat Orlando in Game 2 of the Eastern Conference finals last year.
In Minnesota, Garnett used to get killed for not taking over in crunch time as well. He reluctantly began shooting more late in the games, but one of the reasons he flourished when he got to Boston was that he didn't have to be that guy anymore. Paul Pierce and Ray Allen were around to handle that, freeing Garnett to play defense and rebound and set screens … and become a champion.
LeBron James has to be a champion one day or we can't grant him a place at the table with the other biggest names in the history of the game. For now, this second consecutive loss as the No. 1 seed in the playoffs disqualifies him from Michael Jordan comparisons, because, among other things, Jordan won all 23 series he played with home-court advantage (as San Jose Mercury News columnist Tim Kawakami tweeted Thursday night).
Perhaps James will end up like Garnett, widely acknowledged as one of the best of his era but saddled with this tragic flaw of playoff shortcomings for much of his career. Garnett didn't have the additional burden of playing for the local team and representing its chance at salvation after four decades of sporting hell. (A couple of World Series victories by the Twins took the pressure off the Timberwolves.)
Even though so many seasons were fruitless, ending the exact same way, Garnett stayed in Minnesota for 12 seasons, bound by a sense of loyalty to the franchise that drafted him as an unproven teenager and later signed him to a $126 million contract. In 2000, after Tom Gugliotta and Stephon Marbury had left and close friend Malik Sealy had been killed in a car accident and David Stern yanked the Timberwolves' first-round draft picks for the salary cap-violating secret contract with Joe Smith, Garnett told me why he wasn't demanding a trade.
"A lot of people tend to jump ship when they see things are bad," he said. "I am not one of those types of people
"I don't know why everybody expects me to leave when stuff is bad. You go through life dealing with bad days, but you still go. I've got a great perspective of the game. I just don't jump ship when things are bad."
Now he has an even better perspective that comes from an additional 10 years of living. And he says he was wrong.
"Loyalty is something that hurts you at times because you can't get back youth," Garnett told reporters Thursday night when asked about LeBron's free agency. "If I could go back and do my situation over knowing what I know now, I'd have [left] a little sooner."
I had been in the camp that believed LeBron was staying in Cleveland. Two things changed my mind: the start of this series and the end of this series.
Did you see the look on his face right before Game 1, when he hoisted his MVP trophy to the cheers of his hometown fans? He looked a bit sad and reflective, not at all the emotions you'd expect from a 25-year-old who'd just won his second consecutive MVP. He should have had a businesslike expression, as if to say, "Yep, this is just another one in a long line of these to come. I'm going to have to build an annex to my house just to store all of the awards." Instead his demeanor seemed nostalgic, as if he were thinking "I'm going to miss these people."
And after Game 6, after his team had been ousted from the playoffs in the second round, it was no longer feasible to say he should remain in Cleveland because that's where he had the best chance of winning. The Cavaliers tried and tried to get a winning group around him, but they never did deliver another star in his prime. Shaquille O'Neal couldn't replicate the dominance of his younger days. Antawn Jamison missed too many shots and was no match for Kevin Garnett. Mo Williams was too sporadic.
LeBron shouldn't stay in Cleveland for loyalty. He should have the same freedom any other 25-year-old has, to go to a situation that suits him best and appeals to him the most. He can join forces with Dwyane Wade or Chris Bosh or Amare Stoudemire or Derrick Rose if he leaves. None of those guys is coming to Cleveland.
His choice will reveal a lot about him. It will indicate whether he values being in the biggest city, or being with a coach and teammates that are the most familiar (perhaps even deferential) to him, or being with the best surrounding roster.
Garnett signed off on the trade to Boston after a year of rumors about him heading to the Lakers in part, I was told, because he didn't want all of the sideshow hoopla that comes with playing in Los Angeles. James should follow the same priorities.
It's fair -- more like, accurate -- to say LeBron hasn't won. It's premature to proclaim he won't win. He might not be Jordan, but neither does he have to contend with a Jordan-like figure set to rule over the NBA for the next decade as Jordan did in the 1990s.
Maybe he can be Garnett, whose gratification was long delayed, but eventually brought him basketball salvation.