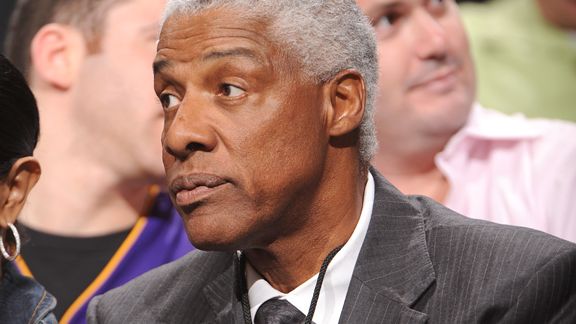 Andrew D. Bernstein/NBAE/Getty Images
The doctor, in the house.
One of the great innovators in basketball history, 60-year-old Julius Erving is still thinking about the game he stopped playing professionally more than two decades ago. In town to attend a Finals game with the winners of a Kia Motors Sweepstakes, Erving took time to answer some questions about everything from the effect of momentum in the NBA Finals to his memories of visiting Boston in his playing days:
You played in five Finals combined in the ABA and NBA over the course of your career, with a wide variety of results. Having dealt with outcomes on both sides of the spectrum, can you talk a bit about the idea of momentum when playing basketball at that Championship level and the affect it may have within any series?
To me, momentum is not something that carries over from each game of the series, it's something that shifts within the game. Each night you start from square one with each side trying to paint a masterpiece. One team has a plan and the other team adjusts to it throughout the contest and the momentum shifts based on those adjustments. Then it is up to the opposing team to respond. For the most part though, once that game ends, you close the book on it and start from scratch next time out.
Can you talk then, about the factors that come into play for momentum that might shift momentum during an NBA Finals game?
Coaching does play a role and sometimes fate plays a role. Take this series for instance. Boston's preparation for L.A. is very clear. Let Ron Artest shoot, and cheat off of Derek Fisher and give him open looks. It's interesting, though, how a simple change can affect that gameplan. For example, Ron Artest picked up two early fouls in game three and Phil Jackson was forced into an adjustment, having to bring in Luke Walton while being down 12-5.
Boston was now playing a unit they hadn't planned on seeing, a Laker unit that runs things a little differently. And you look up and the Lakers went on a 25-5 run. Suddenly, it was the Celtics who looked a little confused about how they wanted to play against these guys. Do we double Kobe? What do we do with Walton? They deviated from the gameplan to early and it hurt them.
The emphasis on the Celtics establishing the low-post game and getting Kevin Garnett going in Game 3 also hurt their offense in my opinion and swung the momentum. Ray Allen and Paul Pierce struggled shooting because they were the second and third options on those plays. They looked nothing like Game 2, when they were moving the ball around and finding the open man. Instead they were intent on establishing Kevin, and they did it, but in establishing him, it took them away from what they needed to be doing on offense.
It's that kind of back and forth play that has set the tone for this series. Neither team has any momentum right now, so it's going to be up to those mid-game adjustments to decide who wins this championship.
Having attended UMass to go along with your epic battles with the Celtics in the 1980's, you have a lot of connections to this area. What are your memories of playing here?
I have a lot of memories coming to Boston, most of them are good surprisingly. One thing I will always remember is coming to the Boston Garden and seeing a red 6 they use to hang up in the balcony. The Sixers wore red, but UMass' colors were maroon and I always used to notice it, once I realized it was the UMass people. They'd always try to get my attention since they would say "Look here, look here we love you" so it wasn't always hostile. There was always a little fanbase for me.
Now having attended a Finals game here, how would you compare the crowd to back to the 1980's? Is the passion, intensity and knowledge of the game for the fans now around here still as strong, compared to your Garden visits back in the day?
The arena has changed, they've actually cleaned it up quite well, (laughs) needed it from the old Garden. But the intensity, crowd and their passion for the team has not changed. The fans here are 100 percent behind their team. Just sitting there during Game 3, they were giving it to all the Laker fans sitting around me, and it was funny to me since it reminded me of the 1980's.
When we use to come up from Philly, it was one of those trips that was close enough, we would enjoy bringing our wives with us. They got so berated, though, by the crowd, they wouldn't come anymore. So after watching a couple games here, I was thinking, these are the same fans here that I remember, letting the opposing fans have it.