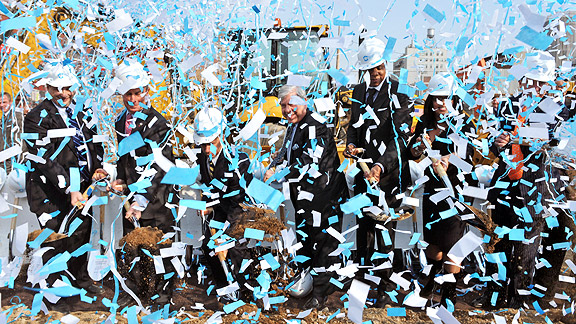 David Dow/NBAE/Getty Images
In March 2010 the team broke ground on a new Brooklyn arena.
Carmelo Anthony wouldn't sign with the Nets, and who could blame him? They're the Nets. The Nets. Yinka Dare. Derrick Coleman. The team that made the NBA Finals and still had empty seats. The team from the swamp. The team with the piped-in crowd noise. The team for New Yorkers too poor to attend Knick games -- even when the Nets were a better team.
Talk about a snakebitten franchise.
Already the talk is that Deron Williams is sure to be a rental, headed to the Knicks or beyond as soon as he can wriggle free. Who'd want to hang around with that deadly combination of a bad market and bad luck?
That's the thinking.
That's crazy.
---
There is no such thing as long-term bad luck. There are good decisions, bad decisions and the random vicissitudes of life.
One flat tire -- that's a bummer. An incident here or there -- unlucky. If you get three flat tires, though, well, what kind of tires did you buy? If you get eight flat tires, we need to talk about how you drive. If you get 20 bad tires in a year, and you're not in a war zone, it's time to admit you're not qualified to make car maintenance decisions.
(There's a great line from the John Prine song "Dear Abby": "Stop wishing for bad luck, and knocking on wood." The idea is that doing dumb stuff day in and day out gives you chronic bad luck, more than being unlucky does.)
Now, the idea out there is that some NBA teams -- the Clippers, Kings, Timberwolves and Nets come to mind -- are essentially destined for flat tires every time they start up the car. By reputation, those are teams that no player with options would choose to join. They'll screw it up somehow.
Well, I'm here to tell you that if there is such a thing as a team destined to fail, it's not because of the uniform, the name, or the fates.
Over the long term, what matters is the people running the show and the decisions they make. Nothing more, nothing less.
The Nets, for instance, may have simply made a bad decision to locate the team at the swampiest exit of the Turnpike. And the team has lost more than most not because of their name, but because of the decisions made by owners and management.
Two things that really doomed the Nets were not some voodoo, or the mascot. It was the location and the ownership.
And what people seem to have a hard time internalizing is that both of those things have changed forever. In other words, whatever the word "Nets" has meant in the past, it simply doesn't mean that anymore.
As of today that franchise has:
One of the richest sports owners in the world, who is demonstrating some ability to negotiate. After bidding up the market to get the cross-town rival Knicks to pay a very steep price for Anthony, he nabbed an even better player for less than the price of Carmelo. One Western Conference executive gave Prokhorov an "A+++++++" calling the Williams trade "masterful ... this is one of the best maneuvers I've seen in a while."

Deron Williams, about whom Mark Ginocchio of Nets are Scorching writes: "The acquisition of Deron Williams is the most important trade this organization has made since they received Jason Kidd from Phoenix. Williams is the floor general championship teams desperately need -- a PG who can pass, shoot, score and most importantly, make all of his teammates better. With one swift move, the Nets have obtained someone who can run the pick-and-roll with Brook Lopez better than any other PG out there, a guy who's going to be able to effortlessly dump the ball off to Kris Humphries for an easy dunk at the basket, a guy who's going to make Anthony Morrow -- the best three-point shooter in the NBA -- perpetually open from long distance as he drives to the basket and kicks the ball back out. He's also a legitimate NBA star and if this league continues to go in the star-centric direction, he brings the Nets instant credibility -- much in the way 'Melo would have, except Williams may actually help these guys win something more than regular season games."

A new arena on its way in Brooklyn, which -- with a combination of huge population, deep pockets, and a ton of borough-wide pride but no major pro team -- is one of most promising sports markets in the world.
In other words, tell yourself whatever stories you want about the meaning of the word "Nets." And maybe a sloppy kind of thinking will keep free agents away for a few years, while Brooklyn and Prokhorov prove their worth. But realize that over the next decade, whatever has been dogging this team has changed, and at some point, it's going to be silly to expect the same results.
"Knicks" is a venerable name. But what does that team have that the Nets won't soon also possess? Oodles of cash, check. Massive market, check. Star player, check.
(You don't really mean to tell me that James Dolan -- the guy who spent his team into irrelevance so recently -- has some insight that Prokhorov can't match, do you?)
The Nets have eliminated the key weaknesses that held them back. Tight-fisted ownership, bad location, lack of a superstar: All gone. Not that the team is perfect -- the summer of 2010 featured some bad signings. But they have Williams under contract right up until the team is due to move to Brooklyn. Maybe, in that time, players like Williams will develop the vision to see that "Nets" can have a new definition.
Or maybe he won't, in which case, maybe the best move is to simply change that damaged name.