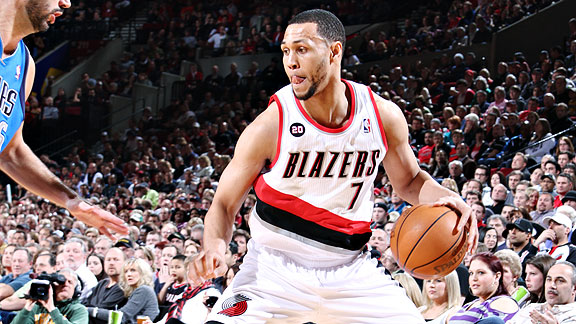 Sam Forencich/NBAE/Getty Images
Brandon Roy's role has been limited since Gerald Wallace arrived, and the Blazers have thrived.
Last week a whole bunch of smart basketball people told me all about the Rockets.
They did not agree on much, but they sure did agree that one team the Rockets would not catch was Portland. And the reason was that, since the trade for Gerald Wallace, the Blazers were just playing too damned well.
Since those conversations the Blazers have rattled off wins against the Thunder and Mavericks, making those people look even smarter.
What is it the Blazers are doing differently now? Why are they seen as better than their record?
As a Portland fan, I could talk all day about the scoring droughts Portland opponents have been experiencing lately thanks to some tremendously active defense. I could point to the evolution of LaMarcus Aldridge, the righteously fearless combination of Gerald Wallace and Wesley Matthews, or the pleasingly nasty side of Nicolas Batum.
But not to be overlooked is the reality that the midseason trade for Wallace has given coach Nate McMillan a real rationale to severely limit the role of the creaky-kneed Brandon Roy.
In the last five games, the Blazers biggest name has averaged 20 minutes and five field goals per game. Those are Matt Barnes numbers. Mike Miller is right around there, as are Shawne Williams, James Johnson and Dante Cunningham.
The former rookie of the year is doing less, and it's hard to believe it's purely about resting him for the playoffs.
This season, Roy has a PER in Taj Gibson/Shannon Brown territory. Roy's not terrible at anything -- that's not the point. Instead, the reality is that now that the Blazers have Wallace, anyone else who'd play his wing minutes plays better defense and contributes more meaningfully to the team's preferred style of offense.
A Roy-centric team would be (and was) stocked with half-court shooters. Roy would create on the dribble, and either muscle his way to the rim, or pull up for that herky jerky mid-range jumper. Teams doubled Roy, and he would kick to open shooters like Travis Outlaw or Steve Blake, who both had career years from 3-point land alongside Roy. But with Roy's newly limited athleticism, a lot of those plays in the paint have been eliminated, the doubles make less sense, and his game is now affixed further from the hoop (he's shooting as many 3s as ever, but his layups and dunks are way down).
It no longer makes sense to build a roster around Roy's playmaking, and in roster-building, the Blazers have moved on. What's emerging is that the new set up, Andre Miller-and-the-feisty-long-athletes, is effective.
With Miller running the show, a lot of the opportunities come on plays at the rim, especially with all those lobs. There have been six core Blazers recently: Aldridge, Miller, Wallace, Batum, Matthews and Marcus Camby. Roy and Rudy Fernandez have been in a secondary group, playing limited minutes off the bench. And that has been working.
There was once a time -- for instance during last year's playoffs vs. the Suns -- when Roy used the media and everything else at his disposal to see to it that he remained central for the Blazers. After coming off the bench in a loss, Roy virtually started himself for a key game. Who could blame him? What (then) 25-year-old, in any profession, would step aside to let others steal the spotlight? Who can imagine the inner turmoil associated with the kinds of injuries he is playing with?
A year later, however, time, trades and reality seem to have mellowed that impulse somewhat, and with Roy in a supporting role, the Blazers are rolling.