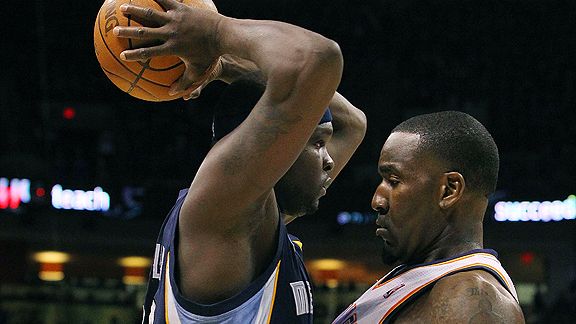 Ronald Martinez/Getty Images Sport
The Thunder's Kendrick Perkins is next in line trying to stop the Grizzlies' Zach Randolph.
The Grizzlies, Hawks and Mavericks have turned the second round of the playoffs into the playground of underdogs. And the king of this dog town is Memphis Grizzlies scoring and rebounding machine Zach Randolph.
There's no getting around the fact that the Grizzly big man has been magnificent. After losing to Memphis in Oklahoma City to trail the second-round series 1-0, the Thunder's Kevin Durant called Randolph the best power forward in the league. It's hard to find any NBA player who has been better in the playoffs, certainly Randolph has outplayed bigger names like Derrick Rose, Kobe Bryant and Tim Duncan.
Randolph is the go-to guy on the closest-knit team, the workhorse of the 8 seed that toppled a 1, and is putting a scare into the Thunder, who played as well as any team in the first round.
If we are in the business of recognizing basketball achievements, build a statue to this man.
If you are in David Stern's business, however -- building the brand of the NBA by pushing likable characters into the spotlight -- then there's surely anxiety in all this.
Not because Randolph is unlikable (on the contrary, teammates and others rave about his big heart, his laugh, his easy way with children and his commitment to his friends and family). But because his judgment has evidently been so atrocious, for so long, that it only seems like a matter of time before there's more bad news.
The domination
Antonio McDyess had no chance.
Randolph caught the ball on the right block and turned to face McDyess, his lone Spur defender. The Grizzlies had the lead and the ball. With a mere 17 seconds left, bucket would likely end the Spurs' season, and McDyess's career. Through the entire playoffs, Randolph had been an unsolvable riddle -- he even sealed Game 3 with a 3.
There was little reason to believe this possession would be different. The Spurs had tried Tim Duncan and Matt Bonner on him. They had shoved him far from the hoop. They had doubled on the dribble, and on the catch. They had trapped, and faked traps. They had dared the referees to call a litany of grabs and holds.
Randolph had smiled through it all, finishing with spin moves, up-and-unders, hook shots, jumpers, high-release leftie runners and more than a few "hockey assists" that resulted in layups for guards cutting baseline. Even when the Spurs had goaded Randolph into a miss he was high-risk to get his own rebound.
Randolph most commonly catches the ball with his back to the basket. Feet spread far apart, he then pivots, deploying his skinny legs like a geometry student with a compass. (His pivot foot is the point, his outside leg is that pencil, describing a circumference within which defenders like McDyess are not welcome.) Turn, turn, nudge, bump, turn ... having etched his circle, he is then free to unleash, essentially, whatever he wants. Great footwork, long arms, a love of contact and all those leftie scoring moves are tools enough to tear down a dynasty.
Randolph's pivots nudged McDyess back just a foot or so from the Grizzlie power forward's high post position. Even in the waning seconds of the shot clock Randolph moved with care -- the very portrait of John Wooden's "be quick but don't hurry." McDyess braced for whatever Randolph jab or rock was due next. Yet before any of that: BAM, a step-back, quick-release jumper, falling back off one leg.
Nothing but net. Nothing but head shakes. What could McDyess have done? Jumping early to block an attempt like that is to fall into Randolph's trap -- a move that starts like that usually ends with Randolph driving by an airborne defender, or drawing a foul on him.
The commentators spoke of good defense, and better offense. As Randolph ran back on defense, he raised a finger to his lips and shushed the San Antonio crowd.
Of course, the Spurs would go on to win that game, in miracle fashion.
Randolph's shush would not be the first foolish spectacle of his career. But it was also not his last chance to outplay the Spurs.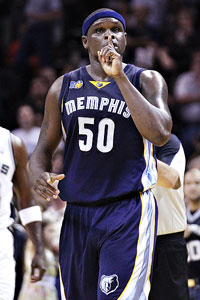 Jed Jacobsohn/Getty
Against the Spurs, Randolph's basketball was essentially perfect, but his crowd management at the end of Game 5 was premature.
Just a few days later, in Memphis for Game 6, the Spurs held a lead in the final five minutes.
Then the Grizzlies began to force-feed the ball to Randolph and the NBA's great defensive-oriented dynasty of the modern era quickly crumbled.
Over three-and-a-half minutes, Randolph caught the ball five times. He scored two points every time -- four made shots to go with a pair of free throws.
When the smoke cleared with about a minute left, the Grizzlies held a nine-point lead and a ticket punched for the second-round.
In Game 1 of the next round, it would be more of the same, and it's hard to imagine who will be able to slow down Randolph, who just might be putting on the performance of this year's playoffs.
The analysis
ESPN's director of production analytics Dean Oliver says Randolph's performance has changed in recent year -- specifically he has stopped taking so many jump shots:
Randolph seems to have kicked a bad habit -- he stopped taking a bunch of lousy shots. Mid-range shots are a legitimate weapon, but taking a lot of them and making only 41 percent of them isn't a great way to drive an offense. Randolph took more than eight mid-range jumpers per 48 minutes in the four seasons prior to joining the Grizzlies. He used to isolate at the high post and stop the offense, taking about 30 percent of the team's shots, and making 40 percent or so.

He was trying too hard to be The Man.

Just by cutting down his mid-range jumpers to five per 48 minutes and maintaining or slightly increasing the number of layups he takes, he is getting better shots. He is now taking only about 25 percent of the team's shots and those are much higher quality shots. He cut out the fat.

The way Randolph is playing is no illusion. Sometimes, players do fool you by putting up cheap points or by scoring a lot and allowing a lot of points on the other end. That is not Randolph right now.

He is generating a remarkable 120 points per 100 possessions and allowing just 101, both far better than the league average of about 106. Randolph's playoff performance thus far is legitimately among the best in the league.
Where did this Zach Randolph come from?
Before this season the Grizzlies had literally never won a thing in the playoffs, and even when they traded for Randolph in the summer of 2009 it was seen as just another Memphis mistake.
"I wasn't crazy about it," says 3 Shades of Blue blogger Chip Crain, who learned of the trade before it was announced. Crain bumped into Memphis owner Michael Heisley and GM Chris Wallace the day before the trade became official. "I thought Randolph was absolutely wrong for this team."
It's a franchise that has whiffed repeatedly, even recently. "Back in November and December," says Crain, "we were averaging a solid three thousand fans per game."
Ask around the NBA, and competitors will tell you that while owner Heisley leads the league in complaints about how small market teams are at a disadvantage, in fact the Grizzlies have been their own worst enemies. Although the trade looks much better now, there were howls when they traded Pau Gasol to the Lakers in what many called one of the most lopsided trades in NBA history. They have overpaid all kinds of players, including Michael Conley and especially Rudy Gay who is out injured. They drafted one of the most productive players in NBA history, Kevin Love, but traded him for O.J. Mayo who has recently been both suspended and benched. They traded away the now fantastically productive Kyle Lowry, and didn't get much for him. They drafted players like Conley and Xavier Henry too high. Two weeks ago, when the team signed Randolph to a massive contract extension, competitors would have told you they were overpaying him, too.
A closet crowded with skeletons
Randolph is among the league leaders in almost every category that matters. And while his rebound percentage is very high in the playoffs, and his true shooting percentage and PER are among the best of his career, he has always played more or less like this. How is it, then, that he has barely even been in the playoffs before? How could it be that he has spent much of his first NBA decade being shipped from city to city -- the Blazers, the Knicks and Clippers all tried to make it work -- as a bad contract, an NBA vagabond? How could a player this good have had a career this bad?
The story has a lot to do with getting in a pretty shocking amount of trouble off the court.
Randolph was locked up for stealing a pair of pants. He got in legal trouble for battery and then served more time for selling a stolen gun. That was all before the end of high school, and that last incident resulted in his missing much of the basketball season to suspension. The next year he led his high school team to the finals of the state championship, and there was talk of lessons learned. He played a season under Tom Izzo at Michigan State without getting in trouble. By the time of the 2001 draft, most teams were still wary of drafting the MVP of the McDonald's All-American team as high as his basketball talent demands.
The Blazers took him 21st, and he was quickly a productive player. By the time he was 22, his GM at the time, John Nash, was quoted saying that the team was building around Randolph, and expected him to make them proud.
He was cited for underage drinking in 2002. In 2004, his brother shot three people in a nightclub. Randolph reportedly pulled his brother from the incident, but got in trouble with the police for, allegedly, lying about what happened. He's on video flipping the bird to booing NBA fans. He threw a headband at a referee. He broke then-teammate Ruben Patterson's eye socket by punching him. He was cited for drag racing. He asked for time off to grieve a death in the family back home in the Midwest. He then spent that night in Portland, as his teammates took the court across town, in a strip club where -- adding insult to insult -- he left without paying his bill.
In 2006, Randolph had an MTV crew to his house. He showed off the bible in the entryway and the photo he had taken with Nelson Mandela, but to many the more noteworthy decorating touch was the "Free Larry Hoover" poster; Hoover is the jailed leader of the Chicago-based Gangster Disciples.
Police cleared Randolph after a rape accusation in an incident Randolph's attorney called nothing but an extortion attempt. The public complaint in that case, however, was sordid enough to cost Randolph many of his remaining Portland fans.
Brandon Roy cemented his place as the Blazers' leader in no small part by shutting Randolph up in the post-game locker room. By the time Randolph was traded to the Knicks (for Steve Francis' horrible contract and Channing Frye) in 2007, he arrived in New York to talk of his "last chance" to prove he had grown up.
Randolph had a video crew to his New York house and talked about how after the game he would eat with his family -- implying the tales of nightlife-gone-wrong were a thing of the past. The Knicks continued to be terrible. Randolph made YouTube history with poor, selfish play.
As the Knicks cleaned house, Randolph was traded to the Clippers, with more talk of rehabbing his image. After a DUI arrest and a suspension for punching Louis Amundson in the jaw, he was traded, below-market, to the Grizzlies. And that's when he ran into Crain, the day before the trade was announced.
"I asked him that very day," remember Crain, "why we should expect him to be any different here than he had been at his last stops. He told me: 'I've got a daughter now, and I don't ever want her to read an article about me like has been in the paper the last few years.'"
To Crain, who has been around the team consistently ever since, that was a convincing and real explanation. "He grew up," says Crain. "He finally stopped all that other stuff, and focused on what he does for a living. You see the results. I'd love to say it's the coach, but you've got to credit his daughter. He's a family man now."
Crain also sees a player with a profound respect for his teammates, pointing out that before signing his recent contract extension, Randolph says he made certain the team also planned to keep Marc Gasol around for the long haul.
Which means, essentially, that Memphis is the latest in a long stream of cities that has heard Randolph say the right things. The city appears to be the first, however, to have Randolph also do all the right things. Will that last? Is this a story of a player who stopped taking ill-advised midrange jumpers, and stopped making ill-advised off-court decisions?
There will always be skeptics. A few months ago, police in Portland arrested a member of Randolph's "Hoops Family" for murder.
A year ago -- after Randolph had arrived in Memphis -- Indianapolis police pulled over one of Randolph's friends, Arthur Boyd, driving a car registered to Randolph. In a cooler in the back, they say they found more than 90 grams of marijuana packaged for resale. In an affidavit, police say they also found secret compartments in the car, one of which contained a single round of ammunition. Boyd has a long list of past criminal behavior; Randolph has not been charged with any crimes in that incident. Boyd's trial is upcoming.
Dependable performer
Randolph has been as dependable as any NBA player over the course of the playoffs, making his value sky high.

He has been as undependable as any NBA player off the court for several years, which has dragged his value abysmally low.
Which trend will prevail? Statisticians will tell you that the longer trend, supported by more data, matters more. People aren't as good at changing as we'd like them to be, and most commonly they keep doing the kinds of things they used to do.
There's an argument, essentially, to brace yourself for the next terrible Randolph story.
But to do that would be to ignore the conviction of those closest to him. The Grizzlies have as much insight into Randolph, today, as anyone. Having gotten to know him, they have resolved to trust him with the ball in big moments and with a massive four-year contract extension. Randolph says he adores the city, and has turned over a new leaf there. Which means this could be one of the happiest stories of maturation and rehabilitation in sports history. The league's preeminent bad boy, gone good, and climbing into the center of one of the most exciting playoff stories in years.
The way Randolph and the Grizzlies are playing, that's a tale with a chance of reaching its pinnacle in June, at the Finals. If they can make it, it will be a defining moment for Randolph.
June 15 is due to be both the off-day before the Finals' Game 7 and the beginning of Boyd's trial, in which documents already feature claims from a confidential informant that Randolph has been financing a drug-selling operation.
One way or another, judgments will be made.
and I asked him why we should expect him to be any different here than he had been at his last stops. He told me that day: "I've got a daughter now, and I don't ever want her to read an article about me like has been in the paper the last few years.'"