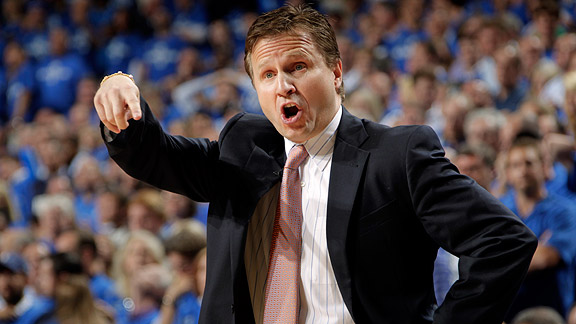 Glenn James/NBAE/Getty Images
Scott Brooks made a tough call, benching four starters for the fourth, including Russell Westbrook.
Leave in the players who are playing well, or bring back the starters?
It's a fantastic basketball dilemma with 1,000 right answers depending on matchups, trends, fouls and a zillion other things.
With 1:30 left in Game 2, the Thunder called a 20-second timeout. The lineup of Kevin Durant and four bench players -- James Harden, Nick Collison, Eric Maynor and Daequan Cook had been brilliant. They traded blows with the Mavericks for the first half of the fourth quarter, then erupted in an 11-2 run that vastly improved the Thunder's chances of making the Finals.
Meanwhile, on the bench were players you may have heard of, like Russell Westbrook, Serge Ibaka, Kendrick Perkins (imagine if they knew in Boston that their savior was sitting!) and Thabo Sefolosha.
The Mavericks, however, eventually put together their own six-point run, and looked to be getting to the point guard Maynor. He had played brilliantly for 11 straight minutes, one of his longest stints of the playoffs, but was starting to show fatigue, and -- against massive double-teams -- a lack of size.
Some little internal buzzer went off for me, thinking: Now, at this timeout, we're going to get big, strong Russell Westbrook back.
But we didn't. It was all Maynor and bench players, all the way to the close.
Great line from Marc Stein, who says move over J.J. Barea: "Oklahoma City's coach is the little big man in this series who just changed everything with his fearlessness."
Lucky for coach Scott Brooks, it worked. The Thunder won. Even so, there is a bit of outrage: What did Scott Brooks think he was doing?
I'll tell you what he was doing: Coaching.
That is, literally, the job of the coach. Allocating minutes is the most important thing coaches do. More important than drawing up plays, giving inspirational talks or deciding whether or not to play zone.
We're used to seeing stars start all the games, and finish the close ones. But that's no law, and when that doesn't happen, it's no affront to the balance of things. It's simply the person who is charged with making the tough decisions about playing time making the tough decisions about playing time.
I'm glad it looks unconventional sometimes. I'm thrilled Gregg Popovich brings Manu Ginobili off the bench. So what if Jason Terry misses some crunch time now and again. I'm glad to see coaches secure enough in their positions to make tough calls. Anyone can lead if all we're ever going to do is follow conventional wisdom. Having the conviction to do otherwise when justified ... that's leadership.
David Thorpe had another great line: "Scott Brooks is an unathletic 5-11 guy who played a decade in the NBA. He has faced far greater challenges than figuring out when to play Russell Westbrook."