Billy Hite may be the happiest assistant coach in America.
Hite has coached at Virginia Tech since 1978. He has coached the Hokies' running backs since 1980. He has sent more than two dozen backs to the NFL. Hite coached Lee Suggs and Kevin Jones in the same backfield in 2002.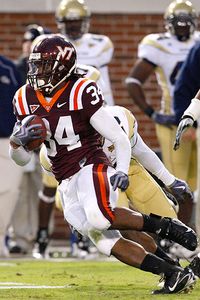 Kevin C. Cox/Getty Images
Ryan Williams had a record-breaking season in 2009 at running back for Virginia Tech.But he has never had two backs as talented as Darren Evans and Ryan Williams. Evans set a Virginia Tech freshman record in 2008 with 1,265 yards. When Evans tore an ACL last August, Williams, who redshirted behind Evans in 2008, stepped into the lineup and set ACC freshman records with 1,655 yards and 21 touchdowns.
As Williams and Evans headed out for the first session of spring practice Wednesday, both are healthy. And that is why, in his 33rd season in Blacksburg, Billy Hite is feeling on top of the NCAA-world.
"There's no question about it," Hite said, dissolving into laughter. "I've really got some good ones."
In addition to Williams and Evans, sophomore David Wilson, who ran a 4.29 on pro day, is in the mix. So is Kenny Lewis, a 2008 starter who tore an Achilles tendon and missed last season. And Tony Gregory, who ran a 4.3 on Pro Day.
Williams and Evans are co-No. 1s, Hite said, a nod to Evans' status before his injury. But Evans' confidence is No. 1 on Hite's coaching list.
"Darren Evans has been cleared to practice," Hite said. "He looks good. In the 6 a.m. workouts, he looked outstanding. I've got to make sure he gets his confidence back. It's the mental part of the game that will be key. I had this situation with Lee Suggs. He wore a brace for five days, then threw it off and said, 'I don't need that thing anymore.' I had another back, Jon Jeffries (1987-90), who never could come back from a knee injury."
Sometimes, football coaches balk when their players want to play two sports. Hite encouraged Wilson, who rushed for 334 yards and four touchdowns last season, to run track.
"When they have the ACC track meet, we have a scrimmage," Hite said. "David missing practice is going to help us out."
I don't know if I've ever heard a coach say that before.
Josh Oglesby, the backup tailback last season, is moving to fullback. That will help, too. Before spring practice began, Hite sat his backs down and explained the rules.
"There better not be a wasted snap," Hite told them. "There better not be a missed assignment. There better be execution. I'm not the one who is going to make the decision about who plays. You will.'
"I've never had this many from top to bottom. I had two real good ones, in Suggs and Jones. Those two got along unbelievable. They were each other's biggest fans."
Hite also explained to the backs that if they gripe about playing time, they will gripe on another campus. He also has a policy that no one will get more than 12 carries in a scrimmage. Even then, he may have to use two footballs.
But there's no question that he is very, very happy.