You can argue who the best pure running back in the country is. You can argue which undefeated team has the most talented player. You can even argue which player has meant the most to his team's success this year.
But one thing that isn't up for debate is who the most complete player in the country is this year -- the total package on and off the field -- the true definition of a Heisman candidate.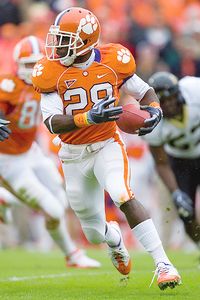 Brian A. Westerholt/Getty Images
Clemson running back C.J. Spiller's gaudy stats put him in strong contention for the Heisman.
Clemson running back C.J. Spiller is the only player in the nation with two 300-yard all-purpose running games this year. He has accounted for a touchdown five different ways this season, a first in school history. He has one scoring pass, six rushing touchdowns, four receiving touchdowns, one punt return for a score and three touchdowns on kickoff returns. He is one of only two players in the country who have scored a touchdown in every game this year. Literally every week he is breaking records -- including his own.
"If you really sit down and put your arms around what he's accomplished," said Clemson coach Dabo Swinney, "it's breathtaking."
And Spiller, a senior who decided to forgo the NFL draft last year to win a championship with Clemson this season, should finally be rewarded for it with college football's most prestigious award.
Clemson's three losses should be irrelevant in the discussion. The Tigers lost to two of the country's best teams in Georgia Tech and TCU, and in the inexplicable 24-21 loss to lowly Maryland, Spiller still did his part, scoring on a 92-yard kickoff return and a two-point conversion.
Some scoffed at Clemson's Heisman campaign for Spiller this summer when the school brought life-sized posters of their star running back to the ACC football kickoff. Two Florida State players who walked out of media days with the posters weren't laughing about Spiller's chances at a trip to New York after he rushed for a career-best 165 yards and a touchdown in the Tigers' 40-24 win over the Seminoles.
"For anybody who doubted that was a legitimate thing, they just hadn't paid attention," Swinney said.
Swinney has told his players that if they want to know what a Heisman candidate looks like, and how he works, just look at Spiller. He made the Dean's List and first-team All-ACC in the same semester last year. What's equally as remarkable is that all of the yardage and accolades Spiller has piled up prior to this season, he did sharing the workload with former running back James Davis. Now he's on his own, and the Tigers wouldn't be in a position to clinch the Atlantic Division this weekend and play for the school's first ACC title since 1991 without him.
Spiller ranks third in the nation in all-purpose running with an average of 195 yards per game. He's one of the most explosive, fastest players in the country, and has 20 career touchdowns of 50 yards or more, including eight this season, to prove it. He has had a play of at least 58 yards in eight of the 10 games this season.
Spiller owns 26 school records, as well as the ACC mark for career all-purpose running with 6,860 yards. He needs just 140 yards to become the fifth player in NCAA history to reach 7,000 yards for a career.
Against NC State, Spiller became the first player in school history to throw a scoring pass, catch a touchdown pass and rush for a touchdown in the same game against an FBS opponent.
His versatility is unparalleled, and that is something that this year, you can't argue.