Under the direction of senior quarterback Riley Skinner, Wake Forest's offense made noticeable progress in 2009, despite its 5-7 record. The Demon Deacons didn't have enough help in the other phases of the game, though, and that contributed to the bowl-less season, coach Jim Grobe said.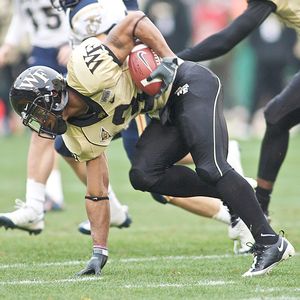 Chaz Niell Southcreek Sports/Icon SMI
Wake Forest quarterback Ted Stachitas is one of the candidates to be the starter next season."I've always felt like you've got a much better chance to win if you've got a good defense and a good kicking game," Grobe said. "This year we were a little better offensively than we had been in a while, but because we couldn't get off the field defensively, a lot our drives on offense were 80-yard drives. It's hard to go 80 yards without making mistakes."
The Deacs' offense didn't have a lot of good field position this year, and defensively, the amount of takeaways from 2008 decreased dramatically. A lot of that can be attributed to the fact that Wake Forest had to replace seven starters on defense, including some of the most gifted athletes the program has ever seen.
In addition to improving the defense in 2010, Grobe also has another daunting task ahead -- replacing Skinner, the winningest quarterback in school history. Who that will be remains to be seen, but his backup, Ryan McManus, will also graduate.
"We'll certainly have trouble replacing Riley, I don't think there's any question about it," Grobe said. "Not just his ability, his leadership and experience and all those kinds of things. But as we learned this past season, having a good quarterback is important, but just having a good quarterback doesn't make you a good football team. We'll definitely take a step backwards experience-wise. I think we'll find a couple of talented kids who will play for us."
Here's a look at Wake's three early front-runners for the starting job in 2010:
Ted Stachitas, redshirt sophomore -- He has had a couple of shoulder surgeries to his throwing shoulder, so that's a concern, but Stachitas is very fast, mobile, and moves around well. He has some of the moxie Skinner has. By the end of the season he started throwing like his shoulder was better, so he's definitely in the mix.
Skylar Jones, redshirt sophomore -- He was recruited out of the Cincinnati area, and is a fast player who was moved to wide receiver but didn't see the field much this year. His value to Wake would be more as an option runner than a thrower, though Grobe doesn't underestimate Jones' arm strength.
Brendan Cross, sophomore -- He's the son of former NFL offensive lineman Randy Cross, so he's been to a lot of NFL camps with his dad and around the sport all his life. Grobe said he has already noticed similar leadership qualities in Cross that Skinner has. "If you stuck no. 11 on him you'd think it was Riley Skinner," Grobe said. Only Cross is taller and faster. Grobe says Cross has a nice arm and good touch on this throws.
The Deacs' issues go beyond quarterback, though. The staff has pretty much wrapped up its recruiting for this season, but is still in search of more speed. The secondary remains a concern, especially at corner, and depth on the offensive line is still a need.