It's finally football season again. Around the ACC, many of the big position battles have been decided, and the hype for a challenging opening week is ramping up. So, who's the class of the league? Our preseason power rankings try to make sense of things before the first snaps of 2017.
1. Florida State Seminoles
The offensive line is going to be tested early and often, but if it can provide a little time for quarterback Deondre Francois, the Seminoles should be as good as any team in the country. From returning superstars like Derwin James to brand-new ones like Cam Akers, this roster is loaded from top to bottom. The only problem is, FSU is going to play a lot of teams with loaded rosters, too, this season.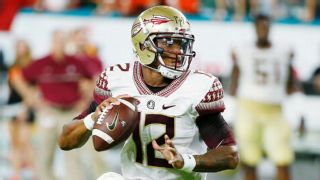 2. Clemson Tigers
The Tigers will go with Kelly Bryant at QB to open the season, but that's hardly an end point to the offensive questions. Will Hunter Johnson or Zerrick Cooper eventually emerge as the better option the way Deshaun Watson did in 2014? Is there a running game that can help Bryant find success? Will the young receivers be able to match the impact of Mike Williams and Artavis Scott? There's still ample talent on Clemson's roster, but this will be a much different offense than we've seen the past three years.
3. Miami Hurricanes
Like Clemson, Miami went with the veteran at quarterback to start the season, and given the talent on the defensive side of the ball, Malik Rosier was probably the wise choice. He doesn't need to dominate for Miami to be good; the defense should keep the Canes close in every game. But Miami also hasn't beaten Florida State since 2009, and until that hurdle is overcome, the power structure in the ACC remains in the Atlantic.
4. Louisville Cardinals
Yes, Lamar Jackson is still a human highlight reel. But beyond that, how much do we really know about Louisville? There's a new defensive coordinator with a new scheme. The top three receivers and leading running back from last season are gone. And, of course, there's that offensive line, which was arguably the worst unit in the country down the stretch last season. If the 2017 Cardinals resemble the team we saw last September, it's going to be a fun year in the Atlantic Division. If they look like the one we saw in November, it's going to be a long year for Bobby Petrino.
5. NC State Wolfpack
Put Florida State or Clemson uniforms on NC State's roster, and we might be looking at the Wolfpack as a legitimate College Football Playoff candidate. But this is NC State -- a program that has lost way too many close games and failed repeatedly to upend the elite members of the conference -- so it's tough to predict a serious playoff run. Still, this is as talented a defensive front as there is in the country, and the playmakers on offense are diverse and dynamic. There's so much to like here, if only it didn't all come with the burdens of NC State's recent history.
6. Virginia Tech Hokies
The reviews of quarterback Josh Jackson have been exemplary all offseason, so it's no surprise he won the job. But as coach Justin Fuente has repeatedly suggested, the bigger question was always whether the Hokies had the supporting cast on offense. Receiver Cam Phillips is the only sure thing on that side of the ball, and while the D should be exceptional, it's not a particularly deep unit. A lot will have to go right for Virginia Tech to repeat as Coastal champ, but Fuente and his staff have proved they can find answers when needed.

7. Georgia Tech Yellow Jackets
The loss of Dedrick Mills probably doesn't change the likely outcome for Georgia Tech this season, but it certainly appears to lower the Yellow Jackets' ceiling. Mills was a dynamic, powerful runner, and without him there's a lot of unknown. Coach Paul Johnson has made a career of plug-and-play backs, but while there's likely someone already on the roster who can get the job done, Mills was a player special enough to elevate the entire offense.
8. Pitt Panthers
QB Max Browne has Pitt fans optimistic that the offense won't miss a beat after saying goodbye to quarterback Nathan Peterman, running back James Conner and offensive coordinator Matt Canada, but the big questions are on defense. Pitt's secondary was abysmal last year, and now the Panthers will open this season with safety Jordan Whitehead suspended for three games and a pass rush that looks like a shell of last season's unit. How many shootouts can Pitt win?
9. Duke Blue Devils
Truth be told, we're higher on Duke than most, but it's tough to justify putting a 4-8 team higher than this to open the season. Daniel Jones might be the league's best quarterback outside of defending Heisman winner Jackson, and from T.J. Rahming to Ben Humphreys, this may be David Cutcliffe's most talented roster at Duke. The big questions are on both sides of the line of scrimmage, where the O-line struggled to open running lanes last season and the defensive front lacks a star pass-rusher.
10. Wake Forest Demon Deacons
If Wake was in the Coastal Division, it might be a legitimate ACC title game contender. In the Atlantic, though? Even with a veteran roster and an improved talent base, it's hard to put the Deacons on the same tier as Florida State, Clemson, Louisville and NC State at the moment. Don't expect Wake to be an easy win for anyone, but also keep in mind the Deacons went 0-4 against the top four teams in their own division last season, losing by a combined score of 129-47.
11. North Carolina Tar Heels
It's not that we doubt UNC can compete in the Coastal. It's entirely possible. But if the Tar Heels are to make another run at the division, they're going to need to answer a whole mess of questions first. Is Brandon Harris the answer at quarterback? Does he have anyone beyond Austin Proehl to throw to? Who's running the ball? And can the pass rush take a big step forward? North Carolina seems more likely to endure a transition year than another nine-win season.
12. Syracuse Orange
Like with Wake Forest, the Orange may be trending in the right direction, but the results in the win-loss column may not show up in a loaded Atlantic Division this season. If quarterback Eric Dungey can stay healthy and the young defense takes a big step forward both up front and in the secondary, a bowl game is possible -- and an upset similar to their win over Virginia Tech last year could be in the cards against one of the Atlantic's elite. But putting together a real run is probably another year or two away.
13. Boston College Eagles
The offense at BC is still a big work in progress, and given the number of talented defenses this team will face, it's fair to wonder just how many points the Eagles can score. Last season, Steve Addazio's team feasted on mediocre opposition (7-1 vs. teams with six or more losses or outside the FBS) but was utterly dominated by the higher-end Power 5 programs (0-5 with an average margin of defeat of 36 points per game).
14. Virginia Cavaliers
It may well be another long year at Virginia, where coach Bronco Mendenhall has a thin O-line, question marks in the run game and an uphill battle rebuilding the talent on the roster. The Cavaliers should be better than last season's 2-10 mark, but a bowl game would amount to a massive success.