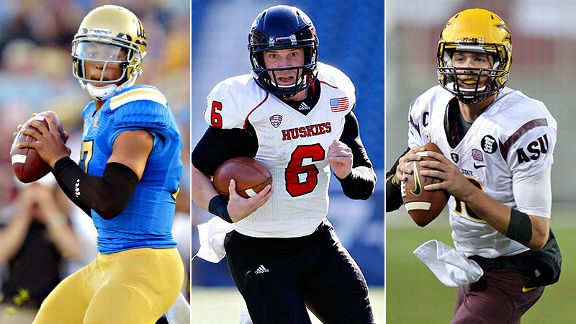 Getty Images
Brett Hundley (left), Jordan Lynch (middle) and Taylor Kelly (right) all starred last week.
Week 10 featured an impressive offensive performance by Florida State, a dominant defensive outing by Michigan State and a Hail-Mary touchdown as time expired for Nebraska.
With the help of ESPN's new college football metrics (see explanations here), ESPN Stats & Information takes a look back at the best individual and team performances of Week 10.
Best Individual Performances
Brett Hundley posted a Week 10-high 97.0 opponent-adjusted QBR in UCLA's 45-23 win against Colorado. He completed 19-of-24 passes (79 percent) and was responsible for four touchdowns. In his previous two games combined, both losses, Hundley completed 64 percent of his passes and had more turnovers (4) than touchdowns (3).
Jordan Lynch had a 96.0 opponent-adjusted QBR in Northern Illinois' blowout victory over Massachusetts. He had 279 yards of total offense and was responsible for five touchdowns in the win. In the last three weeks, Lynch leads the FBS in rush yards (534), 15-yard rushes (15) and expected points added (31.1 EPA) by a quarterback.
Taylor Kelly posted a 95.6 opponent-adjusted QBR in Arizona State's 55-21 win at Washington State on Thursday. He was responsible for seven touchdowns in the win, tied for the most by a player this season. In addition to his scoring, Kelly converted 6-of-11 third-down chances.
Jameis Winston had a 94.6 opponent-adjusted QBR in Florida State's 41-14 win against Miami (FL). He converted 6-of-8 on third-down plays and had seven completions of 20 yards or longer. In his three games against top-25 opponents, Winston has a 95.6 opponent-adjusted QBR and has led Florida State to three wins by an average margin of 42.3 points per game.
Explaining Connor Shaw's Total QBR:
Connor Shaw threw for four touchdowns and had no interceptions in South Carolina's 34-16 win against Mississippi State but had an opponent-adjusted QBR of only 44.0. Why? Shaw did not convert any of his seven third-down pass attempts and took a 13-yard sack when the game was tied. He also completed only 1-of-7 passes in the second quarter when the game was still close.
Best Team Performances
Offense-- Florida State added 23 expected points on offense towards its 27-point victory over Miami (FL).
The Seminoles gained 517 total yards of offense and scored 41 points against a Miami defense that ranked in the top 12 in scoring defense entering the game. Florida State converted 11-of-15 third downs, including 9-of-10 chances in the first three quarters.
Defense-- Michigan State added 23 expected points towards its 23-point victory over Michigan on defense.
That means that if the Spartans had an average defense (EPA of 0), and all else remained the same, the two teams would have been equal. The Spartans held the Wolverines to -48 rushing yards, their fewest in school history, and had seven sacks in the game.
Special Teams--UCLA added seven expected points on special teams by controlling field position and recovering an on-side kick.
UCLA kick returner Devin Fuller had three kickoff returns that gained least 30 yards. As a result, the Bruins' average drive started on their own 41, 16 yards closer to the goal line than Colorado's average drive started.
For a look at the teams with the best EPAs in 2013, check our Football Power Index page here
Looking at Nebraska's Hail-Mary TD
Nebraska QB Ron Kellogg III threw a 49-yard Hail-Mary touchdown to Jordan Westerkamp as time expired to give Nebraska a 27-24 victory over Northwestern on Saturday.
According to ESPN's win probability model, Nebraska had a 2.8 percent chance of winning before the touchdown, meaning that the play increased Nebraska's win probability by 97.2 percentage points. That is the largest increase in win probability for any play this season.
The chart below shows the massive jump in win probability from that play.
Next week features three matchups of top 15 opponents as No. 10 Oklahoma heads to No. 6 Baylor on Thursday, No. 5 Stanford hosts No. 3 Oregon (9 ET, ESPN) on Thursday and No. 13 LSU travels to No. 1 Alabama on Saturday. There's the potential for more last-second finishes, as all three of these matchups finished within eight points last season.