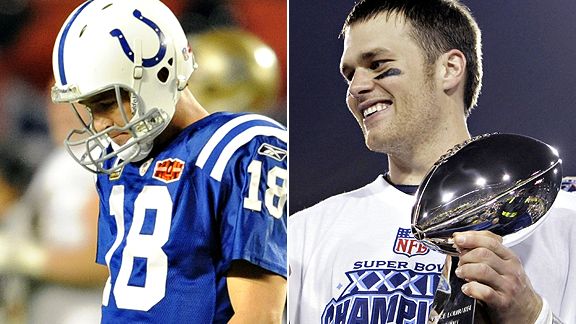 Getty Images
Colts quarterback Peyton Manning, with a loss in Super Bowl XLIV, is now 9-9 in the postseason while his New England counterpart, Tom Brady, is 14-4.MIAMI -- The way Tom Brady's season ended was catastrophic. The New England Patriots' season turned to cinders with an ugly, first-round playoff loss to the Baltimore Ravens, and Brady could be blamed for much of it. He looked no better than Hugh Millen.
Peyton Manning, meanwhile, evolved this season into the prototypical virtuoso, the symbol of great quarterbacking. Because the Indianapolis Colts removed him from both losses, it could be argued he didn't lose a game all year.
Manning was so sensational and Brady shaky enough at the start (while getting used to his rebuilt knee) and at the end (looking lost without Wes Welker and throwing three interceptions), the debate over the greatest quarterback of this generation -- perhaps of all-time -- had swung decisively in Manning's favor. He was better than Brady.
Until Sunday night.
Manning's legacy was tarnished in Super Bowl XLIV.
Late in the fourth quarter, he threw an interception New Orleans Saints cornerback Tracy Porter returned 74 yards for a backbreaking touchdown, the type of costly mistake Brady has avoided on the big stage. Manning also panicked in the final moments when the Colts had a shot to score and at least try an onside kick.
Manning's postseason record is 9-9, with 28 touchdowns and 19 interceptions. He is 1-1 in Super Bowls.
Brady's postseason record is 14-4, with 28 touchdowns and 15 interceptions. He has three Super Bowl rings.
Of course, the Patriots also lost a Super Bowl in which they were favored, failing to achieve perfection in 2007. But it wasn't Brady's fault. The New York Giants pulled off one of the great upsets in NFL history with Brady on the sidelines. He conducted a touchdown drive to give the Patriots a fourth-quarter lead then helplessly watched it disappear.
In the Super Bowl, Brady always rose to the occasion.
Manning failed to deliver Sunday night. The memory of Porter prancing into the end zone will last a long time.
"He had an opportunity to be in a Super Bowl; he doesn't win it," ESPN analyst and former NFL quarterback Tim Hasselbeck said. "Now, he looks human. He's not going to be able to go undefeated in Super Bowls, and certainly when you compare him to some of the all-time greats he doesn't have as many rings.
"No matter how many records he has or what the stats say or however he plays in the regular season, when you match up his postseason accomplishments against quarterbacks like Tom Brady, Joe Montana, it doesn't stack up."