Jay Feely is coming off one of the greatest seasons by a New York Jets kicker.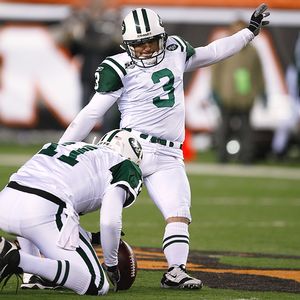 Scott Boehm/Getty Images
Kicker Jay Feely hopes to remain with the Jets.He doesn't want it to be his last for them.
The Jets on Tuesday signed free-agent kicker Nick Folk to a one-year deal. That doesn't necessarily mean they're willing to part with Feely, but they at least have a backup plan in case Feely finds an offer to his liking on the open market.
The thing is, Feely isn't interested in shopping for a new team. He'd prefer to remain with the Jets and sign a contract before the free-agency period begins.
"I'd love to get back there," Feely said from his home in Plantation, Fla. "We have had negotiations and discussions, and they were very pleasant, very positive. They're very pleased with how I kicked over the past couple years and the leadership I showed. [Special teams coordinator] Mike Westhoff and I got along great. It's just a matter of coming to an agreement on a contract."
As for the Folk signing, Feely wasn't offended. Kickers sometimes are signed for offseason purposes and can be cast aside easily.
"They're being prudent," Feely said.
The Folk acquisition is peculiar because he's coming off a disastrous season in which the Cowboys waived him two games before the playoffs. He missed a kick in each of his final six games with Dallas, the last straw a botched 24-yard attempt against the New Orleans Saints in Week 15.
Folk made 18 of his 28 field-goal attempts. His 64.3 percent success rate was third-lowest of anybody who attempted a kick. He had only three games where he was perfect on multiple tries. Folk was 6 of 14 from 40 yards and farther.
With a defense-first philosophy, Jets head coach Rex Ryan needs to be able to rely on his kicker to win close games. Three Jets games were decided by three or fewer points last season. Five were decided by five or fewer.
Feely ranks third among all kickers in scoring since 2001. He posted the third-highest-scoring season for a Jets kicker with 122 points. Feely set a club record by making 24 straight field goals and tied a team record with a 55-yarder in Week 8.
Feely converted 30 of his 36 attempts, ranking 17th among regulars with at 83.3 percent. Three of his misses, however, came in a heartbreaking, three-point loss to the Atlanta Falcons that seemed to end the Jets' playoff hopes in Week 15. One was blocked because of an errant snap, and another suffered from a bad hold.
He made 12 of 15 attempts from 40 yards and out.