Did the Jets make a wise decision in cutting Alan Faneca?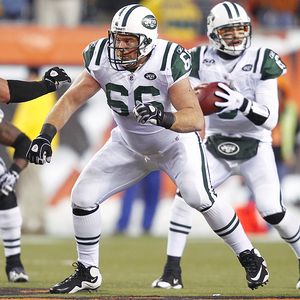 Joe Robbins/Getty Images
Is a 33-year old Alan Faneca still better than a 22-year old prospect?The Jets released nine-time Pro Bowl guard Alan Faneca over the weekend. I reached out to another nine-time Pro Bowl guard, Ruben Brown, formerly of the Buffalo Bills, to get his thoughts on the move.
Based on what you've seen from Faneca, did the Jets make the right call?
Ruben Brown: I've been watching Alan. He's reached that stage in his career where that's all people can say about you, that you're slipping. He's risen to be one of the best to play the game in this era, and once you reach the top, what else can they say about you? You're going down.
But GMs and scouts don't always understand offensive-line play. The top notch guys -- premier guys like Alan Faneca, Kevin Mawae, Olin Kreutz -- they can play as long as they feel like playing because of their knowledge of the game.
The Jets drafted Vladimir Ducasse out of UMass in the second round. Plus, Faneca was going to make $7.5 million in base salary. I'm sure the contract played a little more into it than just a player slipping.
RB: That probably played all into it. But can a 24-year-old kid dominate Alan Faneca to the point you put him on the bench? I don't think so.
Faneca is 33 years old. Can you explain why you believe an offensive lineman can play at an advanced age while other positions can't?
RB: As a running back, your speed's always got to be up. As an O-lineman, it's so much about balance and strength and technique you can play when you're older. When you're a receiver or running back you have to run as fast as these young kids are running.
Alan Faneca lost a step, but his one step he lost still leaves him better than all the other guys waiting in the wings. Until you find a guy doing what he was doing when he was 26, 27, 28, then you don't get rid of him. It's not like he's going to drop off and be a CFL player.
What does losing a guy like Faneca do to the chemistry of the guys he's leaving?
RB: Most offensive lines that are good are tight. They hang out together. They talk. Their families socialize together [Faneca and Jets center Nick Mangold were out to dinner with better halves when Rex Ryan called to inform Faneca he was being cut].
It's a blow to lose a brother, but offensive linemen know the axe is going to fall. Cuts are made in that room more than others it seems. You knew the axe is coming for you sooner or later. But you've got to go on. Hopefully, somebody else steps up with the Jets.