ORCHARD PARK, N.Y. -- Quarterback Trent Edwards took the first-team reps to open voluntary workouts Tuesday under new head coach Chan Gailey.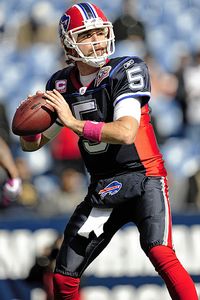 Ed Wolfstein/Icon SMI
Buffalo quarterback Trent Edwards took reps with the first team at Tuesday's OTAs.Edwards expressed excitement about working with Gailey. Edwards is entering his fourth NFL season. He's on his fourth offensive coordinator and is learning his third offense. But this will be the first time he has played under an offensive-minded head coach.
Gailey will call the plays, and Edwards has been impressed so far.
"I'll try to explain it as best as I can," Edwards said. "I've never been around a guy that's very conscientious of what offensive plays set up other plays. He's doing a lot of motion and shifting, trying to disguise certain plays so it doesn't look like the same plays to the defense.
"That's what's nice as a quarterback. You're talking to him and he understands that certain formations we run a lot of the same plays. There's coordinators that get pretty basic and pretty predictable. I feel like Chan isn't going to be that predictable. It's nice to keep the defense off-balance."
The Bills had two offensive coordinators last season, firing Turk Schonert 10 days before the season opener and promoting quarterbacks coach Alex Van Pelt. That switch -- or the doomed attempt to operate out of a full-time, no-huddle attack -- didn't help. The Bills' offense ranked 30th in the league. In the previous six seasons they ranked 25th, 30th, 30th, 28th, 25th and 30th.
Edwards likened his experience of assimilating Gailey's offense so far to "speaking English for the last eight or nine years, and this is a little more like Spanish." But it's better than reading the same dull book ad infinitum.
"I'm not making excuses," Edwards said. "I'm still a football player and is comes down to making plays. You'd rather be with one offense your entire career, and you like at the stats of the guys that are winning Super Bowls; they're probably in systems they've been in for a period of time. But I'm not going to sit here and say I wish Steve Fairchild was still here, running that offense. ... I have to adjust to it."
Edwards probably has a slight edge in an open competition that includes veteran Ryan Fitzpatrick and prospect Brian Brohm. The Bills declined to sign a free-agent quarterback or draft one until Levi Brown in the seventh round. Brown will be a developmental quarterback, earmarked for third string or the practice squad.
"There's a new coaching regime that didn't draft any of the guys except the ones that came in this year," Edwards said. "They don't really owe us anything. That's the mentality I'm taking."