How suddenly did the Buffalo Bills fire head coach Dick Jauron?
One of his captains was caught totally unaware.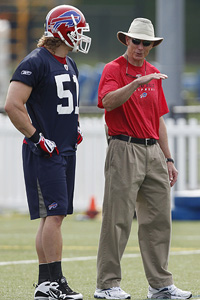 AP Photo/David Duprey
Bills linebacker Paul Posluszny was caught off guard by the firing of head coach Dick Jauron."I found out through you," Bills middle linebacker Paul Posluszny told me over the phone about 10 minutes after the Bills sent out a press release. "I got a text saying 'Coach Jauron's been fired.' I said 'I don't think so.' So I went to ESPN.com, and I'm looking at your picture right now.
"Wow. I couldn't believe it. I haven't spoken to anybody in the organization or any of my teammates yet."
A move had to be made. The Bills are 3-6 and in last place in the AFC East.
A litany of missteps -- firing the offensive coordinator before the season, implementing then scrapping the no-huddle offense, miscalculating the offensive line, in-game decisions -- made it clear Jauron was not getting the job done.
But Posluszny was stunned that it happened now.
"I'm completely surprised," Posluszny said. "Obviously, we don't have a good record, but we were all under the impression that we would have at least to the end of the season. If something was going to happen, then it had to happen, but to have him fired now in the middle of the things is very, very surprising."
Buffalo went 7-9 in each of Jauron's previous three seasons and will likely miss the playoffs for a 10th straight season.
"You didn't want it to happen this way," Posluszny said. "Every time we lose, we say 'We've got to turn this around. We've got to turn this around.' We weren't able to do that, and this, obviously, is the consequence for that.
"The players have the utmost respect for Dick Jauron. He's a great guy, a great person. But in this league, you've got to win. Unfairly, since we're not playing well, it gets put on him. He has to take all the heat for it. Whether that's fair or not, that's just the reality. We all love Dick Jauron. He's a great guy and a great man. It's just unfortunate that it had to happen this way."
Posluszny was hopeful a fresh voice and new ideas will help transform the organization's culture.
"What we have to stress is that this is an opportunity," Posluszny said. "There's no time to be depressed or be upset. We have to play the Jaguars on Sunday. This is a change that we have to make work for us. We can't sit back and say 'What if?' or 'I don't know.' We have to get ready to go and get ready to play a game."
The news was so fresh to Posluszny that he asked me who the next coach would be. I told him the expectation was that defensive coordinator Perry Fewell would take over on an interim basis.
"If he were the guy, I think we have a lot of confidence in him," Posluszny said. "He does a great job with us defensively. He's the type of guy that has the ability to lead a team, an entire football team.
"If he's the guy, it's good that it'll be someone in house, someone we know."