An interesting chess match could unfold in the trenches Sunday in Land Shark Stadium, where the New England Patriots visit the Miami Dolphins.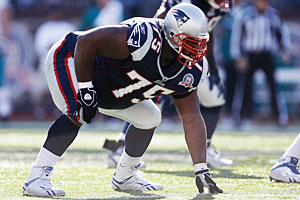 AP Photo/Winslow Townson
Patriots nose tackle Vince Wilfork might create match up problems for the Dolphins on Sunday.When they played four weeks ago, Patriots nose tackle Vince Wilfork moved out to the edge to line up against Pro Bowl left tackle Jake Long. The maneuver helped the Patriots short-circuit the Wildcat, which was limited to 7 yards on 10 plays.
"Vince has really played all across the line for us," Patriots coach Bill Belichick said after the game. "He's a pretty versatile player. He's very flexible. He did a good job. He embraced the move all week, and I think -- we'll see how the film looked -- but it looked like he did a pretty good job on Long."
Since then, however, Miami's offensive line has gotten raggedy. Belichick's thoughts on the matchups likely will be different.
Nate Garner has taken over for Justin Smiley at left guard, and center Jake Grove has been battling an ankle injury that forced him to miss Sunday's loss to the Buffalo Bills. Joe Berger made his first NFL start in Grove's place.
Grove, who missed practice Wednesday, was considered a high-priority offseason acquisition for the Dolphins. They didn't like the way former center Samson Satele handled the AFC East's behemoth defensive tackles: Wilfork, Kris Jenkins of the New York Jets and Marcus Stroud of the Bills.
On the NFL Network's "GameDay Morning" show Sunday, former defensive tackle Warren Sapp made Wilfork his pick for toughest player in the league.
Where will the Patriots put Wilfork? They might have all sorts of options, and whoever draws the assignment won't be thrilled.