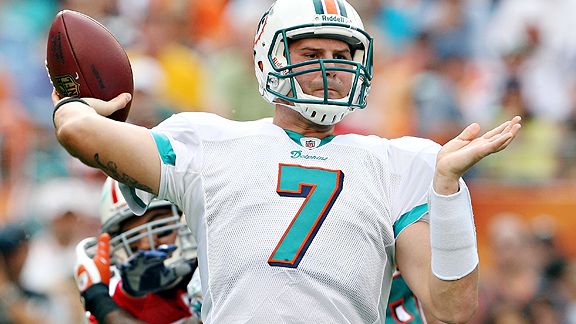 Doug Benc/Getty Images
Chad Henne may have saved Miami's playoff hopes Sunday when he put together a 10-play drive to put the Dolphins in field-goal range in Miami's 22-21 win over New England.
MIAMI -- A week ago, with the game on the line, Chad Henne choked. Multiple times.
The Miami Dolphins quarterback threw three interceptions over the final 2 minutes, 43 seconds of an odious defeat to the Buffalo Bills. The loss was poison to the Dolphins' playoff hopes and made Henne seem more like a neophyte than any sort of future star.
Henne found himself in another clutch moment Sunday afternoon. The Dolphins, down by two points in the fourth quarter, kept getting the ball punted back at them. Their defense was stifling Tom Brady, but everybody knew the New England Patriots were destined to win because they don't lose two in a row and they were chosen, by gosh, to win the division and this was going to be a game they won. Pure and simple. That's the script.
So what that Brady had thrown an interception in the end zone instead of another touchdown pass that would have put the game almost out of reach with 9:45 to play?
The Dolphins offense was not to be feared. Henne sprayed the ball hither and yon. First possession after the interception: Three incompletions and a punt. Next possession: Four incompletions on seven plays and a failed fourth-down conversion.
Time evaporated in Land Shark Stadium. The Patriots were getting closer and closer to a victory that would propel them toward the division title and exterminate the hopes of the Dolphins.
With their season in the balance and one last chance to put his team within striking distance of the AFC East leaders, Henne got it together.
"Our backs were against the wall," Dolphins receiver Brian Hartline said. "It was now or never. That is kind of how we felt the whole game. I don't know if it translated well on television, but this game was do or die."
Henne put together a 10-play drive to put the Dolphins in field-goal range and run out most of the clock, setting up Dan Carpenter's 41-yard kick to beat the dumbfounded Patriots 22-21.
The exhilarating finish tightens the AFC East standings. Had the Patriots won -- as everyone assumed -- they would be two games ahead of the second-place New York Jets and three ahead of the Dolphins with four to play.
Instead, the Dolphins and Jets are 6-6, one teensy game behind the Patriots.
"It's critical," Dolphins coach Tony Sparano said. "We knew that this was going to be a big football game to give ourselves a chance to continue to play meaningful games. Winning that football game out there today against a team like that was important in a lot of ways.
"Our mettle got tested last week, mine, theirs. We didn't do a good enough job. We put our minds to it, and every guy in that room committed to one week of hard work.
"This thing got done. It's a tremendous win for us and puts us right back in this thing."
Henne completed 29 of 52 passes for 335 yards and two touchdowns with one interception. The last time he threw that many passes was at practice, because he hadn't recorded 50 attempts in a game since his freshman year at Michigan.
On the winning drive, he went 3 of 5 for 30 yards, including a dart to Greg Camarillo to covert a crucial fourth down.
"If you want to, we can throw all day," Henne said. "I love it. Put it in my hands. Put pressure situations upon me. I really thrive on those."
Sure didn't seem that way a week ago against the Bills, when Henne was outplayed in crunch time by journeyman Ryan Fitzpatrick.
On Sunday, he outshined fellow Michigan alum Brady, who had a monster first half but once again crumbled when it mattered most.
Brady's first 15 attempts: 93.3 percent completed for 277 yards, two touchdowns, zero interceptions.
Brady's last seven attempts: one completion for 11 yards, zero touchdowns, two interceptions.
The Patriots failed to exploit the NFL's worst fourth-quarter defense. The Dolphins entered the game having allowed a franchise-record 134 points in the fourth quarter. And that was with five games left on the schedule.
"We stopped them, and we were going against the top receivers," Dolphins rookie cornerback Vontae Davis said. "You got to grow up sometime, and today was one of those games to grow up."
The Dolphins' offense needed to capitalize badly on the defense's newfound verve.
"You could see it in everybody's eyes," receiver Davone Bess said of the Dolphins' huddle before they began their final drive. Bess recorded career-highs with 10 receptions for 117 yards and a touchdown. "Everybody was determined, and they wanted it. We all wanted it."
With 3:44 to play, the Dolphins took over on their 26-yard line. Henne completed two passes in a row for the first time since the second quarter.
No wonder many of the fans behind the Dolphins bench had their backs to the game and were craning their necks to catch a glimpse of part-owner Jennifer Lopez in a luxury box. This year's trends indicated the Dolphins were doomed, just like they were at Buffalo.
Then, on third-and-6 from the Patriots' 41 with 2:15 remaining, fullback Lousaka Polite ran a pattern in the flat and found himself wide open. He turned it upfield. Nobody near him.
And Henne overthrew him.
"If he's that wide open, I need to hit him," Henne said. "After that, you kind of just erase it from your mind. If you're worried about that play, you're not going to covert the fourth down."
Henne, sacked once on 53 pass plays thanks to a fabulous afternoon for the offensive line, rolled right. Camarillo made his break and gained slight separation on Patriots cornerback Darius Butler. Henne located his target and drilled him.
"It was something out of a movie, man," Dolphins left guard Justin Smiley said. "Every football movie that you see, it comes down to that fourth-and-whatever, and you've got to make the play to win the game or give yourself a chance to win the game."
Camarillo made the first-down catch at the Patriots' 28-yard line, well within Carpenter's range. The Dolphins ran three running plays to drain some clock and the Patriots of their timeouts.
Carpenter made the kick, and that was that.
December looks a whole bunch different now than it did Sunday morning -- for the Patriots, the Dolphins, the Jets and Henne.
"The kid," said Dolphins outside linebacker Jason Taylor said, "grows up more and more every day."