Larry Izzo, one of the best special-teamers in NFL history, probably has leveled his last return man.
The New York Jets on Wednesday morning placed Izzo on season-ending injured reserve with a herniated disk in his neck, and his response at the Jets' offices in Florham Park, N.J., seemed to indicate he was done for good.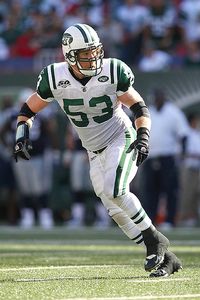 Nick Laham/Getty Images
Specialist Larry Izzo was placed on the injured reserve with a herniated disk.
"It was tough to see," Jets defensive coordinator Mike Pettine said of his meeting with Izzo. "He kept saying 'This isn't the way I wanted it to end.' You could just tell that [with his] warrior mentality, he wanted to go out fighting."
Given that Izzo is 35 years old, it's possible the injury could end a stellar career that included three Pro Bowls and three championships with the Patriots. Jets head coach Rex Ryan said Izzo would require surgery to resume playing.
"It was never said, but I think that's kind of out there," Pettine said of whether Izzo's injury could be a career-ender. "A lot would have to fall into place for him to play again.
"So many players get to this age, and the big thing they want to make sure they have leaving [the game] is their health. He's had a great career and has three rings. So I don't what's left for Larry from a football standpoint."
Izzo has spent his entire career in the AFC East. The Miami Dolphins signed him as a rookie free agent out of Rice in 1996. He spent four seasons with the Dolphins, gaining a reputation as one of the NFL's most ferocious special-teamers
He then played eight seasons with the New England Patriots, where he was a fan favorite and won three Super Bowls.
Izzo signed a one-year free-agent deal with the Jets in the summer.
"It's frustrating," Pettine said. "The guy's a warrior and just embodies so much of what we believe in. You talk about 'Playing like a Jet,' and here's a guy that's never looked the part. There are some people that would have looked at him coming out of college and said 'You won't last 14 minutes in this league, let alone 14 years.'
"Here's a guy that embodies it. When we talk about competitive, tough, relentless, passionate, productive, those are all things to describe him. It's a big loss for us, not just on special teams. He was a backup for us and didn't get a lot of time at linebacker, but just his presence ...
"The worst he's ever finished is 8-8, so he's never been on a team with a losing record. You'll be successful if you can surround yourself with guys like Larry. ... The guy's a winner."