Five nuggets of knowledge about Week 14:
The New England Patriots' locker room will determine the course of the AFC East. It won't matter how hot the New York Jets or Miami Dolphins get over the final month if the Patriots can pull themselves together. I'm not convinced that's going to happen with a young roster and so much missing leadership. Too many players who weren't around for the glory years haven't experienced the payoff to Bill Belichick's methods. Instead, they see two fourth-down coaching decisions that might have cost them victories and four starters sent home for showing up late to a meeting because of the weather.
It's possible no ground could be gained in the AFC East on Sunday. All four AFC East clubs are playing teams outside the division and conceivably could go 4-0. The Dolphins can strike a resounding blow in the wild-card race by beating the Jacksonville Jaguars, who currently are sixth in the conference standings. But even if the Dolphins win, chances are they won't alter the division picture. They probably won't catch the Patriots, who host the 5-7 Carolina Panthers, or separate from the Jets, who visit the 1-11 Tampa Bay Buccaneers.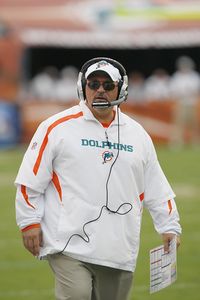 AP Photo/Wilfredo Lee
Dolphins coach Tony Sparano has kept his team competitive for the second year in a row.Tony Sparano deserves consideration for coach of the year -- again. Sparano was jobbed out of last season's awards because most folks credited Bill Parcells first and everybody else second for the Dolphins' spectacular turnaround from one victory to the AFC East title. Sparano has his Dolphins at .500, but they have remained highly competitive without last year's MVP runner-up (Chad Pennington), their star running back (Ronnie Brown), 3-4 nose tackle (Jason Ferguson) and No. 1 cornerback (Will Allen). This year's effort might be more impressive.
Sunday might be Kellen Clemens' last stand to show he can be a starter. New York Jets coach Rex Ryan has stressed for months he believes rookie quarterback Mark Sanchez gives them the best chance to win. Sunday's game at Tampa Bay is a must-win. But Sanchez's knee injury is forcing Ryan to insert Clemens, a 2006 second-round draft choice who has had his chances but could never persuade the Jets to trust him with the job. Clemens won't win over the Jets on Sunday, but it's an audition for 2010 that he can't afford to fail.
The only way Terrell Owens comes back to Buffalo is if he has no other options. Owens has been diplomatic when responding to questions about whether he'd like to remain with the Buffalo Bills. He's not going to openly dismiss a locale that gave him a key to the city before he played a down. But it's clear in Owens' answers he's not enamored with the organization. If he has any chance to join a playoff-caliber team, he will leap at it. So enjoy your last four games of mirth, Bills fans.