Last year, the Miami Dolphins pulled off the greatest single-season turnaround in NFL history.
This year, they have the chance to achieve one of the rarest in-season turnarounds since the league went to a 12-team postseason format in 1990.
Only three times since the league adopted its current playoff system has a team sprung back from a 0-3 start to make the tournament. Nobody has done it for 11 years.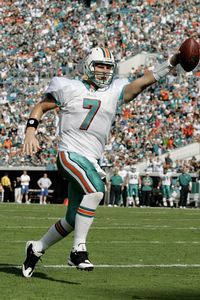 Kim Klement/US PRESSWIRE
Chad Henne has gone 7-3 since becoming the Dolphins' starting quarterback in Week 4.
The Dolphins climbed above .500 for the first time all season, built a stronger case for a wild-card berth and remained one game out of first place in the AFC East by handling the Jacksonville Jaguars 14-10 on Sunday.
In the visitors' locker room of Jacksonville Municipal Stadium afterward, Dolphins general manager Jeff Ireland allowed himself three minutes to reflect on a season that began so brutally but is being respectably salvaged.
Ireland claimed the nadir wasn't their 0-3 start, but the disheartening loss to the Buffalo Bills two weeks ago. Had the Dolphins won that one as expected, then they would be tied with the New England Patriots atop the division.
"The Buffalo game was the lowest point in the season," Ireland said. "You feel like you should win those games, and generally we have won those games since we've been here. Then you play the New England Patriots well and you got an awful lot of hope.
"Hope's a powerful emotion, and we have it. The other side of that is no hope and nothing to play for. Hope is a powerful emotion that enables you to do incredible things. And we got hope right now."
Dolphins head coach Tony Sparano has gotten his team's helmet above water despite losing 2008 MVP runner-up Chad Pennington to a season-ending shoulder injury the same day they fell to 0-3.
They've also lost Wildcatalyst Ronnie Brown, center Jake Grove, nose tackle Jason Ferguson and top cornerback Will Allen.
"It's testament to what this coaching staff has been able to do," Ireland said. "When it's slipping away, they seem to be able to bring it back. Getting these players up for game after game after game, you go down to Buffalo, bring them back up to New England, it is prideful. The attention to detail that Tony and his staff brings to this team is tremendous."
The Dolphins' final three games are at the Tennessee Titans and then home dates with the Houston Texans and Pittsburgh Steelers. All three opponents are 6-7 and dangerous.
But so are the Dolphins, with such youngsters as quarterback Chad Henne, defensive tackle Randy Starks and cornerbacks Vontae Davis and Sean Smith coming into their own, and veteran running back Ricky Williams on the verge of a 1,000-yard season.
"We don't have a large group of superstars," Ireland said. "We know we got to grind it out. I don't know what the players are thinking, but that seems how we play. We try to keep it close, not make a lot of crucial mistakes and then we make plays when it counts.
"Our defense is maturing, which is nice to see. We've played a lot of young guys this year, and they're maturing. The quarterback ... You lose the players that we lost, and then you insert young players at those key positions and you see them mature at a week-in, week-out basis, it's a testament to the coaching staff and the players for buying into the system."