Falling
1. Randy Moss, Patriots receiver: His worst week as a Patriot began when Bill Belichick tossed him from the facility on Wednesday. Four days later, Panthers defensive backs were mocking his effort for a one-catch afternoon. And that one catch? Moss fumbled it. For the past 48 hours, he has been called everything from a malcontent to a quitter.
2. Adalius Thomas, Patriots outside linebacker: Thomas was among the four players Belichick booted Wednesday for showing up late to a team meeting, but Thomas was the only one who publicly criticized Belichick's decision and was the only one benched for Sunday's game. It was the second time this year Thomas was a healthy scratch.
3. Ricky Williams, Dolphins running back: There's a lot to like about Ricky Williams these days. In Sunday's crucial victory over the Jaguars, he surpassed the 100-yard mark for the fourth time in five games and is 25 yards away from a 1,000-yard season. But those three fumbles Sunday in Jacksonville have to be a major concern.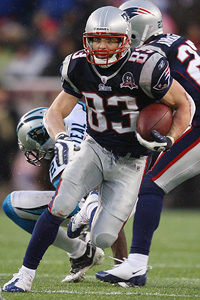 Jim Rogash/Getty Images
Wes Welker made five catches for 63 yards during a 96-yard touchdown drive on Sunday.Rising
1. Wes Welker, Patriots receiver: An injury kept him out of two games, but he has been so prolific in his other 11 games that he leads the NFL with 105 receptions and is second with 1,158 yards. Welker brought the lethargic Patriots to life Sunday with five catches for 63 yards of a 96-yard touchdown drive in the third quarter. He finished with 10 receptions, and has had fewer than eight just twice.
2. Calvin Pace, Jets outside linebacker: He missed the first four games of the year for violating the NFL's policy on performance-enhancing substances, yet he still leads the league's No. 1 defense in tackles for a loss after ringing up three more in Sunday's victory over the Buccaneers. Pace has 11 tackles for losses, including six sacks -- a half-sack behind team leader Shaun Ellis.
3. Marshawn Lynch, Bills running back: Fred Jackson is interim head coach Perry Fewell's back of choice, but Lynch has put together a pair of noteworthy games. The Pro Bowler is making the most of his touches. He has rushed for 144 yards and a touchdown and averaged 8.0 yards per carry the past two weeks.