Three nuggets of knowledge about Sunday's Ravens-Patriots wild-card playoff game:
Julian Edelman will do enough to help the Patriots cope with Wes Welker's injury. I'm not going to debate analysts who've played the game about Welker's importance to the Patriots' offense. I selected him as my AFC East MVP. But I do believe too much is being made about his telepathy with Tom Brady. Yes, there will be a dropoff in chemistry from Welker to rookie Julian Edelman. A few more balls will hit the turf. But Edelman did manage to catch 10 of the 15 passes thrown his way Sunday. He's OK.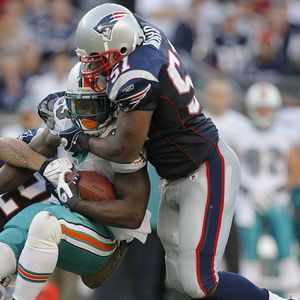 David Butler II-US PRESSWIRE
Patriots linebacker Jerod Mayo didn't play in Week 4 against the Ravens but will be patrolling the middle Sunday afternoon.
When remembering the Week 4 matchup, consider that Patriots linebacker Jerod Mayo didn't play. The Ravens outgained Patriots 363-319. Ravens running back Ray Rice carried 11 times for 103 yards. You would expect those numbers to go down with Mayo on patrol in the middle of the defense. Last year's defensive rookie of the year suffered a knee injury on opening night and wasn't able to play in their first meeting.
Patriot tights ends are an X factor. Benjamin Watson and Chris Baker haven't contributed much to the box score all season. Then again, with a players such as Welker and Randy Moss in the lineup, there aren't a lot of passes to distribute around. In the three games Welker was unavailable (counting Sunday, when he went down in the first quarter), Watson and Baker combined for 11 of their 43 receptions and for 134 of their 518 yards. Calculate that pace over a full season, and Patriots tight ends grab a much more palatable 59 catches for 715 yards this year.