I've received quite a few e-mails and text messages from South Floridians incredulous at the report the Buffalo Bills had Cam Cameron on their head-coaching short list.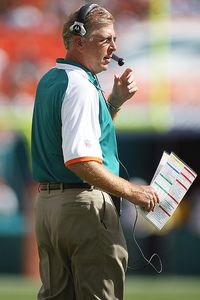 Marc Serota/Getty Images
Dolfans would have loved to see failed head coach Cam Cameron up in Buffalo.And they're disappointed it didn't come to fruition.
John Murphy, sports director of Buffalo's CBS affiliate and the Bills' play-by-play voice, reported the Bills had two sets of candidates: realistic and idealistic.
The viable candidates Murphy listed were free agent Chan Gailey, Arizona Cardinals assistant head coach Russ Grimm, Minnesota Vikings defensive coordinator Leslie Frazier, San Diego Chargers defensive coordinator Ron Rivera and Cameron, who is currently the Baltimore Ravens' offensive coordinator.
There was no mention of New York Jets offensive coordinator Brian Schottenheimer, who confirmed last week the Bills requested an interview that he turned down.
Among the long-shot candidates Murphy named were free agents Bill Cowher, Jon Gruden, Mike Shanahan and Stanford head coach Jim Harbaugh.
While I'm not as down on Cameron as some folks are, you have to wonder why the Bills would be so interested. Cameron is two seasons removed from his only season as a head coach, when he went 1-15 with the Miami Dolphins and was fired.
It was a disastrous season in which the Dolphins botched the ninth overall draft pick (that's the selection the Bills have this year) by selecting Ted Ginn.
Cameron mismanaged a dicey quarterback situation, and if Bills need anything right now it's somebody who can get a handle on that position. After signing veteran free agent Trent Green to hold down the job and drafting John Beck in the second round as the quarterback of the future, the Dolphins fell apart and came away with journeyman Cleo Lemon as their best option that year. Beck lasted two seasons before the Dolphins cut him.
Cameron also insisted on keeping the offensive coordinator's job, but when the season unraveled he surreptitiously handed off to tight ends coach Mike Mularkey, a name that now has Bills fans laughing just as hard as Dolfans are at memories of Cameron.