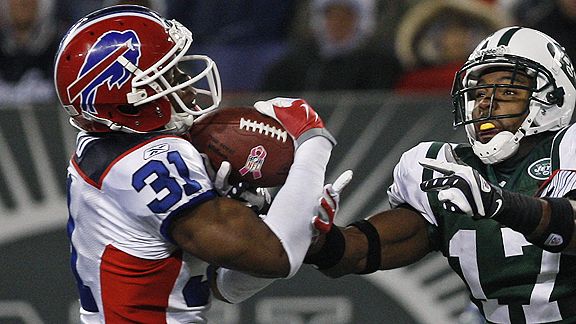 Ed Mulholland/US Presswire
Led by rookie Jairus Byrd, the Buffalo secondary was one of the deepest in the league.
ORLANDO, Fla. -- The Buffalo Bills are an organization engulfed by uncertainty.
Who will be their quarterback?
What difference will new head coach Chan Gailey and rookie general manager Buddy Nix make?
Will Pro Bowl pass-rusher Aaron Schobel play or retire?
Can running back Marshawn Lynch bounce back?
How will they transition into their new 3-4 defense?
One area that cannot be questioned is the depth in Buffalo's secondary.
The Bills' defensive backfield isn't loaded with star power, but the quality of depth is remarkable.
The Bills ranked second in pass defense last year despite injuries pushing them to the limit. Ten defensive backs started for them.
Right cornerback Leodis McKelvin, the 11th overall pick from 2008, lasted only three games before getting hurt. Free safety Donte Whitner, the eighth overall pick from 2006, lost his job to rookie Jairus Byrd, who tied for the NFL interception lead and was selected for the Pro Bowl. Left cornerback Terrence McGee missed five games with a knee injury. Strong safety Bryan Scott started six games at linebacker.
Despite all that, the Bills allowed only 184.2 passing yards a game and 14 touchdowns. They snagged 28 interceptions, second in the NFL.
Now that's depth.
"I've gone to a lot of teams," Gailey said at the NFL owners meetings. "I don't know that I've ever gone to a team that the secondary -- I'm talking corner and safety position -- is as strong as we have right now overall.
"When I went to Dallas, when I went to Miami, when I went to Pittsburgh they were all good. But I'm not so sure that this isn't the strongest group."
Gailey isn't about to compare them player for player. After all, when he was head coach of the Dallas Cowboys he had cornerback Deion Sanders and safety Darren Woodson together.
"Those are two pretty good players," Gailey said. "We had a couple of other good players, but we were always trying to fill a hole."
Gailey joined the Denver Broncos as a defensive assistant the year safety Dennis Smith and cornerback Louis Wright went to the Pro Bowl. The Broncos later lined up Smith and Steve Atwater at safety while Gailey was there.
Gailey was on the Pittsburgh Steelers' offensive staff when they had future Hall of Famer Rod Woodson. As offensive coordinator of the Miami Dolphins, Gailey practiced against three repeat Pro Bowlers: Sam Madison, Patrick Surtain and Brock Marion.
No, the Bills aren't that good yet. Gailey isn't going to make like New York Jets coach Rex Ryan and proclaim they could reach legendary status. On Tuesday, Ryan said his star cornerbacks, Darrelle Revis and Antonio Cromartie, remind him of the renowned Los Angeles Raiders tandem of Mike Haynes and Lester Hayes.
What the Bills do have is a quality starter and backup at every spot. One of only three assistants Gailey retained from Dick Jauron's staff was defensive back coach George Catavolos.
"Even the backups at Buffalo, I'm talking about eight players, your top eight players," Gailey said, "this is as strong a group as I've ever been around."
The importance of depth in the secondary can't be emphasized enough.
As Detroit Lions head coach Jim Schwartz explained Wednesday morning, you can't have too many serviceable defensive backs.
"You're going to play more defensive backs than you are at other positions," said Schwartz, known as one of the NFL's brightest defensive minds. "You're not just going to play four. You're going to play five for half the game and you may even have a quarter of the game when you're playing six defensive backs.
"The other thing to look at is defensive backs get hurt at a higher rate than just about every other position on the field. Other positions have gotten bigger and bigger and bigger. Defensive backs have stayed the same, particularly corners. So with everybody else getting bigger and corners staying the same, it's not a matter of if somebody gets hurt and has to miss a game, it's a matter of when."
Five Buffalo defensive backs finished the season on injured reserve, including both of the opening-day starting cornerbacks, McGee and McKelvin.
Schwartz mentioned another important facet of defensive backfield depth.
"One person in the secondary that doesn't play well makes the whole secondary look bad," Schwartz said. "It's how the whole group plays, and if there's one weak link in that chain, then the whole group can look bad, and offenses are real good at finding that one guy and exploiting him."
Nobody can look at the Bills and call their secondary a weak link.