Posted by ESPN.com's Tim Graham
SportsNation has put together a pretty sweet feature that allows you to draw up your own mock draft however you darn well please.
It's called the NFL Draft Machine.
Anybody listed in the Scouts Inc. database is there for the picking. Just hover your mouse over a player's name to see a thumbnail scouting report.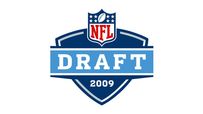 New York Jets fans torn between quarterback Josh Freeman or receiver Percy Harvin can pencil in whomever they choose. Buffalo Bills fans who want to take Florida State pass-rusher Everette Brown over Oklahoma tight end Brandon Pettigrew can do that.
Do the Miami Dolphins go receiver or cornerback? Do the New England Patriots grab an outside linebacker or an offensive lineman?
You choose.
Or you can ignore draft room decorum and pretend like it's Romper Room.
You want to slot Utah long-snapper Clint Mower at No. 22 to the Minnesota Vikings? You go right ahead. He's on the list.
Always dreamed of pegging an Elon punter for the first round? Brandon Lane is in the system, too.
But keep in mind no matter how whacked out you choose to sketch your fantasy first round, thousands of others will be submitting their versions.
When you submit your mock, it will appear next to the SportsNation consensus and the latest projections from ESPN draft analyst Todd McShay.
Get mocking!