Pittsburgh Steelers safety Troy Polamalu won the Associated Press 2010 defensive player of the year award by two votes over Green Bay Packers linebacker Clay Matthews.
Nothing untoward there.
But a Dolfans faction was riled up outside linebacker Cameron Wake didn't receive a single vote of the 50 cast and filed their grievances with me Monday night on Twitter.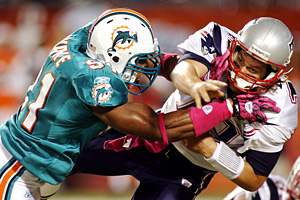 Marc Serota/Getty Images
Cameron Wake didn't receive any votes for defensive player of the year.Wake had a phenomenal season, but I happened to agree he didn't deserve defensive player of the year consideration. I was called a fraud and accused of being on drugs. One of those allegations is completely false.
Let's take a look at who did receive votes. All seven went to the playoffs:
Troy Polamalu, Steelers safety, 17

Clay Matthews, Packers linebacker, 15

James Harrison, Steelers linebacker, 8

Julius Peppers, Bears defensive end, 6

Brian Urlacher, Bears linebacker, 2

Ed Reed, Ravens safety, 1

Haloti Ngata, Ravens defensive tackle, 1
Wake had a breakthrough campaign after being ridiculed by former teammate Joey Porter at this time last year. Wake recorded 14 sacks, 21 tackles for losses, 28 quarterback hits and three forced fumbles.
But Wake didn't stand much of a chance for defensive player of the year. Although the Dolphins ranked sixth in total defense, they failed to make the playoffs and won a single home game. That doesn't necessarily reflect on Wake, but it's hard to think of a player as a difference-maker on a team that loses more often than it wins.
The other problem was the same AP panel didn't vote Wake first-team All-Pro, meaning he wasn't among the top two players at his position. Matthews and Harrison were. Dallas Cowboys outside linebacker and NFL sacks leader DeMarcus Ware received as many All-Pro votes as Wake did.
To vote somebody the NFL's best overall defender when he's not the best at his spot is difficult.
There also was a strong sentiment Wake was snubbed in DPOY balloting not because he didn't win the award, but because he didn't receive any votes. But it must be noted, the AP panel doesn't vote for first, second and third place on their annual awards. Each ballot includes one name. Therefore, the voter is going to choose the single most-deserving player. There are no bones to throw out to make the also-rans feel appreciated.
Unfortunately for Dolphins supporters, their guy didn't get a vote despite a terrific season. A lot of others stars weren't named either, including Ware, New England Patriots nose tackle Vince Wilfork, Detroit Lions defensive tackle Ndamukong Suh, San Francisco 49ers linebacker Patrick Willis and Oakland Raiders cornerback Nnamdi Asomugha. A lot of awesome players there.
What do you think? How badly was Wake snubbed?