How significant was the New England Patriots' surprising decision to trade defensive end Richard Seymour before the season?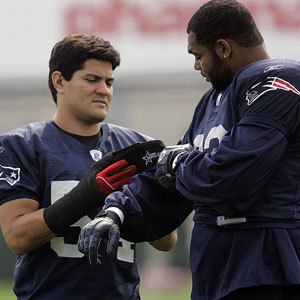 AP Photo/Chitose Suzuki
Tedy Bruschi thinks if former teammate Richard Seymour was still in New England, the Patriots postseason outcome might have changed.ESPN analyst and former Patriots linebacker Tedy Bruschi thinks it might have made the difference

between getting eliminated after one playoff game and still playing.
Bruschi sat down on the "The Herd with Colin Cowherd" to talk about Patriots coach Bill Belichick's controversial move.
"I really couldn't put any rhyme or reason to why he would do that," Brushi said. "Of course, yes, he got a 2011 first-round draft pick. But what I think that move did was sort of sacrifice the immediate success of the team to the future of the team."
The Patriots won the AFC East, but the Baltimore Ravens bounced them convincingly Sunday. The Ravens rushed for 234 yards.
"The constant double teams coming down on the defensive ends, Jarvis Green and Mike Wright, all the movement that they were getting, that's sort of where Seymour would have been," Bruschi said. "His presence might've made a difference.
"Within that game they actually moved Vince Wilfork from nose and over to the end position because they were having so many problems over there.
"Would those adjustments need to have been made is Seymour was there? These are the questions that are being pondered in New England right now."
Bruschi also talked about his former head coach, Pete Carroll, returning to the NFL (Bruschi is a big fan of Carroll's) and came close to predicting a New York Jets victory over the San Diego Chargers on Sunday.
"I believe in what the Jets are doing and how they're running the ball, how [offensive coordinator Brian] Schottenheimer has tempered down what they're asking of [Mark] Sanchez," Bruschi said.
"You've got respect a coaching staff that realizes 'This is who we are. These are strengths we have to play to.' "