The Cleveland Browns cut former Pro Bowl quarterback Derek Anderson this week, but it appears the team may not be finished. According to ESPN's Adam Schefter, Brady Quinn's name is coming up in trade talks as well.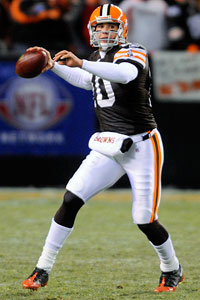 Jason Miller/US Presswire
Could Brady Quinn be following his former teammate Derek Anderson out of town?Cleveland provided a clue into this possible strategy when new team president Mike Holmgren refused to endorse Quinn as the starter on several occasions. Despite Quinn being a former first-round pick, Holmgren has no personal investment and is searching for someone he feels comfortable with going forward.
But what is Quinn's current trade value?
Quinn generated some interest last year, but the Browns declined because they were unsure if he was their franchise quarterback. After another inconsistent season that ended with Quinn on injured reserve, his stock has taken a significant hit.
This much we know: It's impossible to get a first-round pick for Quinn at this point. So that guarantees Cleveland would "sell low" in any trade scenario compared to Quinn's draft status.
There may be teams out there that believe Quinn could be productive in the right situation, particularly if the Browns' asking price is cheap. But based on growing evidence, it appears less and less likely Quinn will be Cleveland's Week 1 starter this fall.
Who might be interested?
After garnering the opinions of our ESPN.com NFL bloggers, I compiled a list of five possible destinations.
Skinny: The organization doesn't seem willing to hand over the keys to Matt Leinart without making him compete for the job. Could Quinn be that competition?
Skinny: Seattle traded Seneca Wallace to Cleveland, so there is precedent to work out a deal with Holmgren's former team. The Seahawks are visiting with Anderson this week, but if they fail to reach an agreement, Quinn might enter the conversation.
Skinny: Jake Delhomme is out and Matt Moore is in. But are the Panthers really 100-percent convinced Moore is a franchise quarterback who can lead them to a Super Bowl?
Skinny: The Broncos sent out feelers for Quinn last year when the Jay Cutler situation went down. They ended up with Kyle Orton. But now they could have both this year and get Quinn on the cheap.
Skinny: Former Notre Dame head coach Charlie Weis is the offensive coordinator in Kansas City, and Quinn knows that system like the back of his hand. So Quinn wouldn't be bad insurance for Matt Cassel. Defensive coordinator Romeo Crennel also was Quinn's head coach in Cleveland.