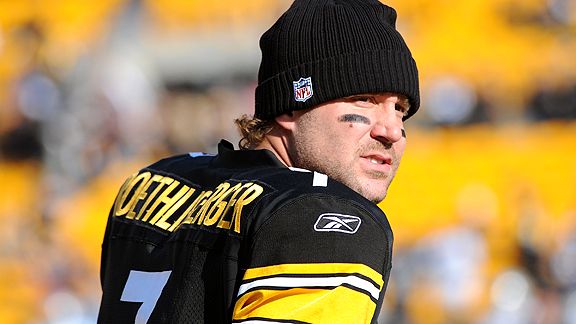 George Gojkovich/Getty Images
Pittsburgh's Ben Roethlisberger and the Steelers' organization face hurdles in the wake of the quarterback's latest incident.Pittsburgh Steelers quarterback Ben Roethlisberger reportedly will not be charged after an investigation into accusations of sexual assault by a 20-year-old Georgia woman in Milledgeville, Ga. That's a huge relief for Roethlisberger and the Steelers' organization. But it doesn't mean the 28-year-old quarterback won't face significant hurdles.
Here is a look at issues Roethlisberger and the Steelers must deal with:
1. A meeting with the commissioner
More on Roethlisberger charges dropped
Clayton: Roethlisberger must explain
Expect NFL commissioner Roger Goodell, who expressed concerns regarding Roethlisberger at last month's owners meetings, to meet with the quarterback in New York soon. Even though no charges will be filed, the commissioner can suspend Roethlisberger for violating the NFL Personal Conduct Policy. It was the second time in a year that Roethlisberger has been accused of sexual misconduct. He also faces a civil lawsuit filed by a Nevada woman who says he raped her in 2008, an allegation Roethlisberger denies.
2. Making amends in the locker room
This is the third major incident Roethlisberger has dragged the team through since he was drafted by the Steelers in 2004. The two sexual assault allegations and his 2006 motorcycle accident give Roethlisberger one more major controversy (three) than Super Bowl rings (two). Roethlisberger is not only a $100 million quarterback, but he's the Steelers' most important player. His missteps can put the team and its season in jeopardy. During the start of training camp last year, Roethlisberger apologized to the team for his second incident. He must do the same this year ASAP.
3. Reaction of Steelers Nation
Steelers fans are plentiful and loyal, but will they forgive Roethlisberger for this latest controversy? It will be a great litmus test. Roethlisberger's reputation has taken a major hit in the court of public opinion. These incidents have given Roethlisberger less of a pass with arguably the NFL's top fan base. If Roethlisberger has a poor season in 2010, will Steelers fans be quicker to jump on him? If Roethlisberger has a Pro Bowl year and leads the Steelers into the playoffs, he could quickly earn his way back into the good graces of Steelers fans. If he doesn't, watch out. It could get nasty.
4. Has Roethlisberger learned anything?
Roethlisberger said he was humbled and realized he wasn't invincible after his motorcycle accident. Last year, he admitted the civil suit in Nevada was embarrassing for himself and his family. But a third incident in such a short span raises questions about whether Roethlisberger can learn from his mistakes. Expect Roethlisberger to say all the right things when he returns. But he must prove to the Steelers through his actions that he's capable of avoiding precarious situations.
5. Will Dixon and Batch be ready just in case?
It's too early to predict what Goodell will do with Roethlisberger. But based on Goodell's history, we know he's not averse to handing out suspensions at the beginning of a season. Because Roethlisberger will not be charged with a crime, he could avoid a suspension. But if he is suspended, backups Charlie Batch and Dennis Dixon must be prepared to perform early in 2010. The AFC North will be extremely competitive. Three division teams (Cincinnati Bengals, Baltimore Ravens and Steelers) finished with winning records last season. All three are expected to contend for a division title again this year, and even the Cleveland Browns look improved under new leadership. So if Batch or Dixon must start a game or two, they must be prepared to play winning football. A couple of early losses could be the difference in Pittsburgh missing the postseason.