NBA superstar LeBron James is once again talking NFL, and he's doing it at a time when his hometown team is at one of its lowest points in franchise history.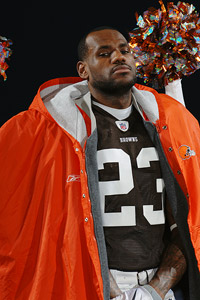 All State
In a recent commercial, James daydreamed about playing in the NFL; the Browns could use all the help they can get on offense.
James is doing all he can to bring a championship to Cleveland via basketball. But could he help the struggling Cleveland Browns get out of their funk in football?
The Browns need a tight end. In fact, the Browns need everything.
At 6-foot-8 and weighing 250 pounds, James might instantly become one of the top football players in Cleveland, despite not playing the sport since high school. Without a doubt, he would be the best athlete. James would just need a lot of coaching.
Former Green Bay Packers Mark Murphy, a member of that team's Hall of Fame, told ESPN.com's Tim Graham earlier this year that James would be tremendous in football.
"The kid had everything you could want," Murphy said. "I felt like that was one kid that could have gone from high school to the NFL and played."
Murphy put James in the same category as Jerry Rice, Steve Largent and James Lofton. I don't know about all that. But what I do know is Cleveland's offense is awful and difficult to watch.
Insert James and the Browns' offense suddenly becomes more watchable.
The Browns could use James in the slot at tight end, perhaps run him on a few reverses, and even as quarterback in the Wildcat offense.
For those that don't know, James has a very strong arm. Maybe Cleveland could let him throw the deep passes of 15 yards or more instead of the struggling Brady Quinn. I'm not sure of James' accuracy, but Quinn and Derek Anderson's accuracy hasn't been good this year, either.
James could be a decoy on some plays. That would open things up for Jamal Lewis, Josh Cribbs and Mohamed Massaquoi. His vertical jump is tremendous. James could be Randy Moss-like in jump-ball situations in the red zone.
But the Browns are missing out as James is using his talents in basketball, a sport that he obviously has a gift for.
Football is a sport in which players have a very brief shelf life. So even if James is occasionally enamored with scoring touchdowns, he's better off sinking three-pointers than thinking of helping the lowly Browns or any other NFL team.