It would have been easy for the Associated Press to select Sean Payton of the New Orleans Saints, the Indianapolis Colts' Jim Caldwell or Norv Turner of the San Diego Chargers as its 2009 Coach of the Year. All three led their teams to at least 13 victories and a first-round bye in the playoffs.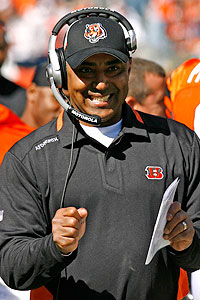 AP Photo/David Kohl
Bengals coach Marvin Lewis, who led the team to a 10-6 season, was named AP Coach of the Year.But unlike most awards, this year's voting went deeper than standings and statistics.
It was about tragedy and the ability to lead an entire organization through some of the toughest situations imaginable.
With those rare credentials, Marvin Lewis of the Cincinnati Bengals was chosen as the AP 2009 Coach of the Year. No other coach faced such a difficult journey this season. Lewis' team finished with a 10-6 record, a playoff berth and an AFC North division title.
The passing of Vikki Zimmer, the wife of defensive coordinator Mike Zimmer, and receiver Chris Henry about two months apart rocked the Bengals. The team also had families of several players affected by the tsunami in the Samoa Islands.
This year was so much more than injuries and X's and O's for Cincinnati.
The next step for the Bengals is to offer a contract extension to Lewis, who is entering the final year of his deal. In seven seasons, he has brought respectability back to a franchise that was a league-wide laughingstock the dozen years prior to his arrival.
Now the Bengals are looking up as they try to maintain their success from this past season.
"While we're proud of the season we had, we didn't get beyond our first goal [of winning the AFC North]," Lewis said in a statement. "There is a lot more for us to accomplish in 2010."