This is a crucial point in the career of Baltimore Ravens quarterback Joe Flacco. Entering his third year, Flacco is on the cusp of becoming one of the NFL's better quarterbacks.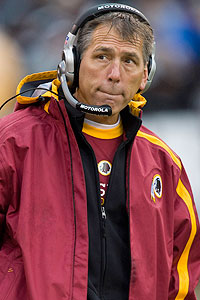 Jason O. Watson/US PRESSWIRE
Jim Zorn, shown here coaching the Redskins against Oakland last year, will bring Joe Flacco under his wing next year and hopefully coach him to the next level.
That's why it was vital for Baltimore to hire the best quarterbacks coach available, and that person is clearly Jim Zorn.
The Ravens announced the hiring of Zorn on Saturday. Zorn was a successful quarterbacks coach for the Seattle Seahawks before struggling as head coach of the Washington Redskins. He doesn't have to go far for his next challenge in Baltimore.
Zorn replaces another good quarterbacks coach in Hue Jackson, who became offensive coordinator of the Oakland Raiders. This was not an opening to take lightly, because Flacco's progress will have a major impact on the future success of the Ravens.
So Baltimore rightfully went top shelf to snag Zorn.
In Seattle, Zorn took hold of an inexperienced Matt Hasselbeck in 2001 and developed him into a three-time Pro Bowl quarterback. Hasselbeck also led Seattle to the Super Bowl following the 2005 season. Hasselbeck joined Zorn in his third season, which is the same time Zorn will begin tutoring Flacco.
There is a very good chance Zorn can produce similar results in Baltimore. Flacco and the Ravens are banking on it.