It appears former Cincinnati Bengals head coach Sam Wyche is willing to put his football reputation on the line for University of Florida quarterback Tim Tebow.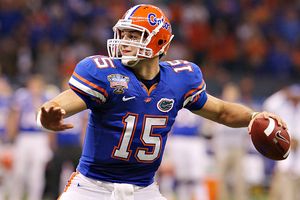 Derick E. Hingle/US Presswire
Florida quarterback Tim Tebow should succeed in the NFL according to former Cincinnati Bengals coach Sam Wyche."If this guy can't be a starting quarterback in the NFL, then I was in the wrong profession for a lot of years," Wyche told Gary Shelton of the St. Petersburg Times.
Wyche has a great track record with quarterbacks. He tutored Boomer Esiason in Cincinnati and was the former quarterbacks coach of Joe Montana with the San Francisco 49ers.
But Tim Tebow?
Wyche is one of the few big names in the NFL community willing to make such a bold prediction for the former Heisman Trophy winner. Tebow was long considered a tremendous college football quarterback who would struggle to translate his skills at the NFL level. Tebow's poor performance in the Senior Bowl certainly didn't help his stock.
But Wyche is working closely with Tebow in preparation for workouts and the NFL draft, so perhaps Wyche has an agenda. Either way, Wyche cannot stop singing Tebow's praises.
"He's accurate," Wyche told Shelton. "He's smart. He anticipates well. He's a commander in the huddle. He has good footwork... He has agility. He has athleticism. So many things are right about this guy."
Wyche is certainly gutsy. He appears fully convinced of Tebow's NFL potential at a time when very few people are.
"[Former Bengals owner and coach] Paul Brown used to say to me, 'Don't tell me about how good an athlete a guy is. Tell me about how good a football player he is,'" Wyche said. "I think Tebow is one of the elite."