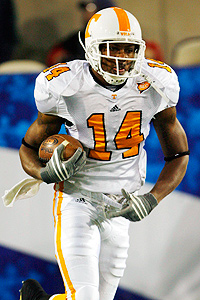 File Photo
Tennessee's Eric Berry is aiming to prove that he is the top pick in this year's draft.INDIANAPOLIS -- University of Tennessee safety Eric Berry is generally regarded as one of the top five prospects in this year's NFL draft.
But according to Berry, his goal by the end of the scouting combine is to prove he's the top player available.
"I really just want to come here and leave no doubt," Berry said. "That's pretty much my whole goal for coming to the combine. For everyone who has that little percentage in their mind that I'm not good enough to be No. 1 or up with there with the other guys, I'm trying to clear that up right now."
Berry likely will be the first defensive back taken in the April draft. In the AFC North, the Cleveland Browns are a potential target for him with the No. 7 overall pick.
The Tennessee safety's ball-hawking skills are often compared to Pro Bowl safety Ed Reed of the Baltimore Ravens. Berry finished his college career with a Reed-like 14 interceptions for 494 interception return yards and three touchdowns.
Berry also said he studies a lot of Reed's game film, in addition to Troy Polamalu of the Pittsburgh Steelers, Bob Sanders of the Indianapolis Colts and former Washington Redskins safety Sean Taylor. Berry also was fortunate to play one season at Tennessee under longtime NFL defensive coordinator Monte Kiffin, who believes Berry is ready for the next level.
"Monte said I would be a fool to come back," Berry said laughing. "He made me so much of a better player, just from the mental part of the game. He told us exactly why he was calling the play. He didn't just call the play and make us run it...You kind of got in the mind of a defensive coordinator."