Falling
1. Pittsburgh Steelers: The defending champions have lost three straight and are in serious danger of missing the playoffs for the first time since 2006. Various injuries to veteran leaders Troy Polamalu (knee), Ben Roethlisberger (concussion) and Aaron Smith (shoulder) are obvious factors. But the quality of play just hasn't been the same this year, especially during November.
Lately there also appear to be some chemistry issues, which we will address in the AFC North blog later this week (hint, hint). Roethlisberger's late scratch seemed to be a big topic of discussion after the team's latest loss, and things like this always seem to crop up when a team is losing.
2. Mohamed Massaquoi, Browns receiver: The Browns have to go through the growing pains of playing young receivers, and the Bengals' secondary put on a clinic of shutting down Cleveland's top threat in rookie Mohamed Massaquoi.
Cleveland's second-round pick was held to one catch for 12 yards. He was targeted eight times by quarterback Brady Quinn but was smothered in a 16-7 loss.
Massaquoi's had some big games and some duds this year. He's been on both sides of our Stock Watch. The Georgia product needs to work on being a consistent threat for the Browns week-to-week.
3. Ike Taylor, Steelers cornerback: The usually solid Taylor did not have one of his better games in Sunday's 20-17 overtime loss to the Baltimore Ravens. Among the plays he gave up Sunday night were a jump-ball touchdown catch to Ravens receiver Derrick Mason, and a big pass inference call in the second half.
Every cornerback has their rough outings. Taylor is a very good cornerback, and this is the first time he's landed in the "falling" category in an otherwise solid season.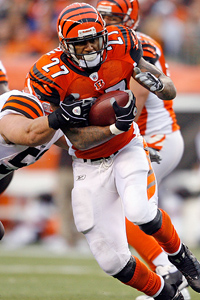 Andy Lyons/Getty Images
Larry Johnson showed flashes of his old form against the Browns, running for 107 yards.Rising
1. Larry Johnson, Bengals tailback: It's never good news when your starting tailback (Cedric Benson) goes down. But the situation did help spur the Bengals to pick up veteran Larry Johnson.
After a couple of weeks in the system, Johnson broke out with 107 rushing yards on 22 carries in a win over the Browns. In many ways he looked like the old "L.J." as he dominated in between the tackles and was hard to bring down. If Johnson continues to run this well, he will be a factor in Cincinnati's playoff run even when Benson returns.
2. Mark Clayton, Ravens receiver: In a crucial game against their biggest rival, the Ravens needed someone to step up offensively against the Steelers. That player happened to be Clayton, who is talented but not always consistent.
Clayton recorded seven receptions for 129 yards and Baltimore needed every bit of his production. His longest catch was for 54 yards. If the Ravens plan to make a run to the playoffs, they will need more games like this from Clayton to pair with the always dangerous Derrick Mason.
3. Paul Kruger, Ravens linebacker: As the season has gone on, Baltimore's 2009 draft is looking better and better.
It started with first-round pick Michael Oher, who has solidified the right tackle spot since Week 1. Third-round pick Lardarius Webb then got his opportunity recently to produce as a kick returner and in the secondary. But Sunday it was Kruger, Baltimore's second-rounder, who made the biggest play of the game.
Kruger's interception of Steelers quarterback Dennis Dixon in overtime set up Baltimore's game-winning field goal. He also had two tackles filling in for injured Pro Bowl linebacker/defensive end Terrell Suggs.