Despite the recent Donovan McNabb deal from the Philadelphia Eagles to the Washington Redskins, it's usually uncommon to trade with a hated division rival, particularly on draft day.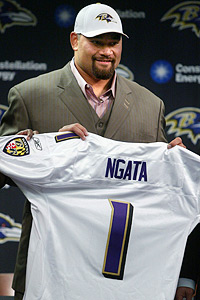 AP Photo/Matt Houston
A rare divisional trade between the Browns and Ravens in 2006 allowed Baltimore to draft top defensive lineman Haloti Ngata.One memorable instance involved the Cleveland Browns in 2006, when they originally owned the No. 12 overall pick in the first round. Ironically, the Baltimore Ravens were one spot behind Cleveland at No. 13, and everyone knew that year that both teams were looking for defensive help.
The board fell perfectly for Cleveland and Baltimore as a run on quarterbacks (Vince Young, Matt Leinart and Jay Cutler) in the top 11 picks led to two sought after defensive players available with the No. 12 pick. The Browns liked linebacker Kamerion Wimbley from Florida State. But former general manager Phil Savage, who used to work in Baltimore, felt he knew for sure the Ravens coveted Oregon defensive lineman Haloti Ngata.
Savage's inclination was correct. So he baited his former boss, Ravens GM Ozzie Newsome, into thinking Cleveland was pondering taking Ngata over Wimbley unless the Ravens wanted to work out a trade. Baltimore, unsure if Savage was bluffing, agreed to give up a sixth-round pick (No. 181 overall) to move up one spot to take Ngata in the first round. Meanwhile, the Browns took Wimbley, which was their original intention, Savage later admitted.
At the time Savage felt he got one over on his former mentor in Newsome. But four years later, Ngata is a Pro Bowl player, while Wimbley underachieved and was recently traded to the Oakland Raiders. Savage also was let go by Cleveland after the 2008 season, in part, because many of his first-round picks like Wimbley, Braylon Edwards and Brady Quinn didn't pan out.
Sometimes it's just bad karma to trade with the enemy.