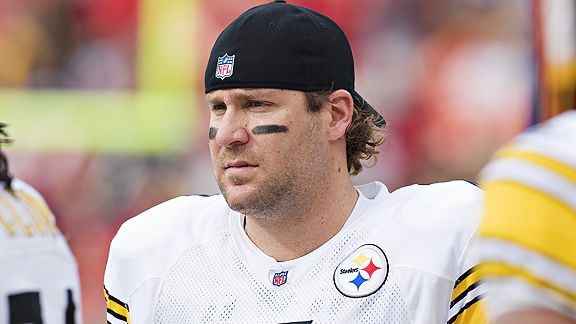 Wesley Hitt/Getty Images
Two public relations experts agree: It will be difficult, but not impossible, to repair the image of Pittsburgh quarterback Ben RoethlisbergerThe comments about suspended Pittsburgh Steelers quarterback Ben Roethlisberger continue to fill our AFC North inbox:
James Elias from Denver, Colo., writes: Roethlisberger cannot be trusted to do what is right for the Steelers. He is extremely immature and egocentric, not to mention sleazy. He considers himself first, second, and always. The Steelers are not to be considered.

Scott from Marshalltown, Iowa, writes: It's safe to say I've lost quite a bit of respect for Ben over the last couple of months. As my team's quarterback, I certainly still want to see him succeed and will cheer for him in that context. But as a person I have a more tainted view of him than before.

Pete Ellenzweig from Portland, Ore., writes: Ben has a proven track record of poor judgment and questionable behavior. The Steelers gave Roethlisberger a long-term contract worth over $100 million. All they have asked in return is that he lead on the field, act responsibly in public and uphold the good reputation of the organization. Ben has failed two of these three expectations miserably. Self-gratification matters more to Ben than being a professional and a role model. It's time for Roethlisberger to leave town!
It's safe to say Roethlisberger has an image problem not only in Pittsburgh, but nationally.
Two sexual assault allegations in less than a year has brought concern, anger and disappointment towards Roethlisberger from the Steelers, the NFL and football fans from around the country. Endorsement opportunities are dwindling as he's become the latest poster child for unruly off-the-field behavior.
As Roethlisberger serves his 4-to-6-game suspension for violating the league's personal conduct policy, it will be key for him to begin taking the proper steps to reclaim his image. But how?
"He really needs to be honest, and he needs to be contrite," said Chris Rosica, who owns one of the nation's top PR firms and also authored "The Authentic Brand" on crisis management. "He needs to talk about what he learned from the situation and then his actions need to be consistent with that."
Based out of New Jersey, Rosica Public Relations has represented various companies, entertainers and athletes for 30 years. According to company founder Rosica, Roethlisberger's current image situation is difficult but not impossible to restore.
"I've seen worse," Rosica said.
George Regan, chairman of Regan Communications Group in Boston, agrees.
Regan's PR firm was recently rated the seventh largest in the nation and has worked with major corporations such as Dunkin Donuts and Bank of America, as well as sports clients such as the New England Patriots and Boston Celtics.
Recent examples in sports, Regan says, shows all hope is not lost for Roethlisberger -- as long as he's willing to take the proper steps.
"If Michael Vick can come back, if Marv Albert can come back, then 'Big Ben' can come back," Regan explained. "Don't forget, the American public loves forgiveness."
Both image specialists agree that the biggest roadblock, in fact, might be Roethlisberger himself.
The two-time Super Bowl winning quarterback hasn't been charged with a crime. But repeat allegations of a similar nature demonstrate a lack of sound judgment and inability to learn from prior mistakes. Roethlisberger also made a pair of public statements in recent weeks that didn't necessarily resonate well with the general public.
Although Regan and Rosica have never represented Roethlisberger, both wondered how difficult the quarterback might be to work with based on his recent actions and body language.
"I don't know him, but from watching him I'm not so sure he takes advice," Regan said. "That is the [first step] to sign onto the program."
Added Rosica: "The only way to help somebody come through a crisis situation is if they're willing to take the counsel. The only time we've not been able to help someone is if they said 'I don't want to do this, and I don't want to do that.' Those are the people we can't help."
In terms of solutions, it is important for Roethlisberger show genuine remorse for his actions. Both experts believe a common mistake athletes and other high-profile people often make is overlooking the American public's ability to acknowledge and judge sincerity. So far, it appears Roethlisberger is falling short in that department.
Rosica suggested Roethlisberger mentor young athletes at the collegiate or high school level on how to avoid the same pitfalls. That way, Roethlisberger is making a difference in society while at the same time discussing and helping his own road to recovery.
"He needs to get involved, give back, and make sure that it's authentic," Rosica advised. "He needs to really have his heart in it, so he's not just doing it for the sake of doing it."
Regan added that if he represented Roethlisberger, he would suggest at least one exclusive interview with a media entity. This is a PR strategy often used by athletes, including most recently golf superstar Tiger Woods.
"Ben's got to do something dramatic. He's got to show that he's a human being," Regan said. "[Football] is not enough. "
The Steelers will open their full-squad minicamp Friday without Roethlisberger for the first time in years. As he goes through an NFL-mandated behavior program for his actions and a subsequent suspension, Roethlisberger should have ample time for self-reflection.