Falling
The Jaguars' pass protection and David Garrard, Jaguars QB: A 300-yard passing game for Garrard in San Francisco was more than offset by his two lost fumbles in the red zone on the Jaguars' first two possessions of the second half.
He was under fire all game. Sacked six times for 46 yards he also absorbed another six hits by the count of press box statisticians. Can he sense it all a bit better?
Matt Schaub, Texans QB: With his team up 20-7 at the half, Matt Schaub not only couldn't do his part to finish off the Colts, but helped Indianapolis' comeback efforts.
After a solid first half, he threw for 132 yards with a TD, two picks and a 60.8 passer rating to go with two sacks and a lost fumble.
Josh Scobee, Jaguars K: The big-legged kicker was hardly the reason Jacksonville blew its chance to improve to 7-4, but he didn't help much.
But on a day when the Jaguars couldn't find the end zone, a couple more field goals could have kept them in it longer and given them more time to come to life. Instead, he missed a 40-yarder wide left and hit the left upright with a 21-yarder.
Rising
Vince Young, Titans QB: Is there anyone in the league whose stock is rising faster or higher? Young had a career passing game with 387 passing yards in the Titans' win over Arizona.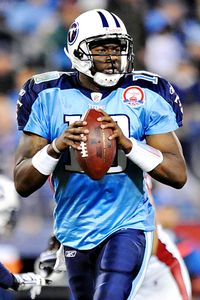 Jim Brown/US Presswire
Titans quarterback Vince Young (10) passed for 387 yards against the Arizona Cardinals on Sunday. Tennessee defeated Arizona 20-17.
But it was the game's final drive that was the story, and could be a defining moment in his career. He marched Tennessee 99 yards in 18 plays and 2:37 to a winning touchdown on the game's final play, the third fourth down the Titans converted along the way.
Joseph Addai, Colts RB: As part of the Colts' second-half comeback, he ran 15 times for 69 yards. Eye popping like Chris Johnson? No. More than good enough to supplement Peyton Manning and help power play-action? Yes.
In the Colts' last four games Addai's averaged 4.3 yards a carry, a number that's hardly as bad as his detractors would have you believe.
Brian Cushing, Texans LB: He continues to fly around and deserved a better fate after a game-high 11 tackles and an interception of Manning.
As discouraging as the three-game losing streak has to be for Texans fans, surely they look at Cushing and see hope for the future.