The suggestion, from Marc in parts unknown: For Further Review: People are talking about it less than I thought, so maybe this is a good Further Review subject: The first Texans offensive play when Schaub had his shoulder dislocated. The fact that the O-Line was overwhelmed by Jacksonville so quickly and decisively makes this a good play to look at even without the starting quarterback having his shoulder pop out in the bargain. It also represented a turning point in the game, since the next 15 minutes or so involved Rex Grossman making so many mistakes that I almost put my fist through the TV.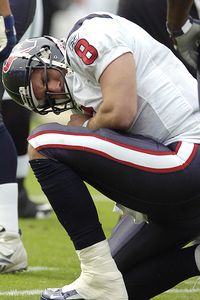 AP Photo/Stephen Morton
The sack that knocked Texans quarterback Matt Schaub out of Sunday's game against the Jaguars was a key turning point.The situation: With 10:44 on the first quarter clock and the Jaguars up 3-0, the Texans face first-and-10 from their own 20-yard line.
Houston has Matt Schaub under center, with Vonta Leach and Chris Brown behind him in an I formation, a tight end on the right side of the line and one receiver on each side.
Jacksonville is in its base 4-3 with the linebackers bunched from hash mark to hash mark and less than four yards off the ball.
What I saw unfold after the snap: Left tackle Duane Brown lunges and winds up on the ground and Quentin Groves circles around him.
Right tackle Eric Winston also goes low in trying to block Derrick Harvey, who hurdles him.
The two ends are roughly as deep into the backfield as Schaub is when his back foot hits as he finishes his drop.
Groves gets two hands on him but slips off Schaub's hips but as Schaub tries to move up in the pocket, Harvey finishes him off from behind for a one-yard sack. Schaub's left shoulder pops out as a result of the way he lands.
Result: Schaub has to leave the game, and in relief Rex Grossman completes three of nine passes, throws a pick and posts a 5.6 passer rating. The Jaguars lead 17-0 by the time Schaub is able to return to the field in the middle of the second quarter.
Ultimate outcome: The Jaguars' 23-18 win gets them to 7-5 and keeps them in control of the final AFC playoff spot while Houston is all but eliminated as it falls to 5-7. Harvey's first sack of the season proves big. The fact that he and Groves were able to combine on a key pass pressure on their first snap of the game bodes well for a team that's struggled with pass pressure.