Falling
1. Brad Meester, Jaguars center: While the Jaguars were ready and willing to deal with the ups and downs of rookie tackles this season, they expected their veteran interior offensive line to be a strength.
But Meester, a 10-year veteran, has dropped off. To his credit, he attempted to take the blame for a failed fourth-down quarterback draw that helped kill Jacksonville's chances in a crucial loss to Miami. Guard Uche Nwaneri said it was really his fault. Either way, Meester's not been good enough this season.
2. David Garrard, Jaguars quarterback: In a huge game, Garrard hardly put his team on his back. In the loss to the Dolphins, he completed 11 of 26 passes for 139 yards. He absorbed three sacks and failed to throw a touchdown. It added up to a meager 59.6 passer rating.
He knew he wasn't very good. He tweeted what amounted to an apology: "You deserve better jag fans and you will get better from me. We still hold our own destiny in our hands."
3. LenDale White, Titans running back: I don't think Jeff Fisher took any offense to White saying last week if he becomes a free agent and finds opportunity, he wants to be elsewhere next year. No one blames a guy for wanting to play.
White dressed but didn't play in a 47-7 blowout of the Rams. He's a victim of Chris Johnson's season. The Titans have an explosive feature back pushing for 2,000 yards, and maybe even the all-time single-season record. It doesn't seem the Titans will be inclined to steer carries elsewhere as Johnson swings for it.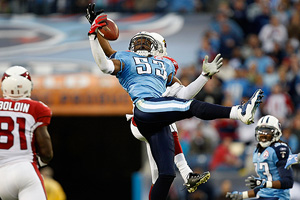 Streeter Lecka/Getty Images
Tennessee linebacker Keith Bulluck is making the most of his remaining time with the Titans.
Rising
1. Keith Bulluck, Titans linebacker: In what might have been his third-to-last home game in a 10-season career with Tennessee -- he's heading for free agency -- Bulluck helped abuse rookie Rams quarterback Keith Null with two of the Titans' five interceptions.
Bulluck also was credited with a game-high 10 tackles, one for a loss, and had an additional pass defensed.
2. Andre Johnson, Texans wide receiver: On a day where the Seahawks seemed to be willing to sleepwalk at Reliant Stadium, Johnson promptly made them pay for it.
He had a 64-yard touchdown catch on his team's first offensive play from scrimmage. Johnson recorded his 13th 10-catch, 100-yard game. He finished with 11 catches for 193 yards and 2 touchdowns.
3. Dallas Clark, Colts tight end: Talk about production. Clark was spectacular in the red zone. He had three touchdowns -- one from 10 yards and a pair of 1-yarders -- in Indianapolis' 28-16 win over Denver.
On a day when the Colts were out of sync and won for the first time ever when Peyton Manning threw three interceptions, Clark made the most of his five catches for 43 yards.