Three nuggets of knowledge about Sunday's AFC Championship Game between the New York Jets (11-7) and Indianapolis Colts (15-2):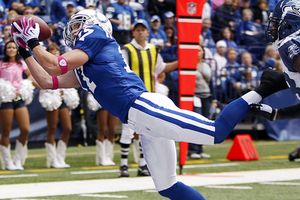 Brian Spurlock-US PRESSWIRE
The Colts may look to hit wide receiver Austin Collie over the middle in Sunday's AFC Championship Game.
1. One big difference from the first game: Pierre Garcon did not play in the first matchup, and Rex Ryan said the Jets saw a lot of two tight-end sets from Indianapolis on Dec. 27 before the Colts shut it down. Ryan's not expecting that this time. He knows the Colts will line up predominantly in three-wide receiver formations featuring Reggie Wayne, Garcon and Austin Collie. With Dallas Clark in the mix, the Colts hope to get the Jets in nickel and dime and test the depth of their secondary. Look for some short stuff to Collie over the middle as an alternative to runs if the Colts can't move it much on the ground.
2. Keep manageable downs and distances on offense: The Colts know they probably aren't going to do a lot of damage running the ball, but they will seek to maintain some sort of balance. Joseph Addai does pretty well on runs that appear to be shut down, wriggling for at least a couple yards. And Manning and the entire operation need second-and-8, not second-and-12. Rushes for losses and sacks are the sort of setbacks that can get the Colts' precision offense off track and give the Jets' defense a spark.
3. Inexperience won't kill these kickers: Kickers have made just 57.7 percent of their field goals in the playoffs. (Check out colleague Jeffri Chadiha's story on the topic.) That mark was 81.3 percent during the regular season. But the Jets have Jay Feely in his ninth season and the Colts have Matt Stover in his 20th. Feely is 9 for 12 in eight postseason games, including 2-for-2 this postseason. Stover, filling in for Adam Vinatieri, is 19 of 24 in the playoffs overall and is also 2-for-2 this postseason. Looking for a long one at the end? Peyton Manning will likely have to give Stover a few more yards than Mark Sanchez will have to give Feely, who's younger and stronger.