Titans faithful have quite a bit to root for if their team is going to sneak into the No. 6 seed spot in the AFC.
They'd be wise to add this to that list: a big finish for Chicago.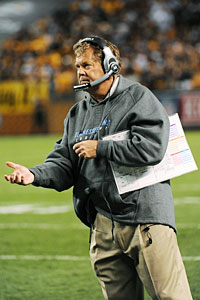 George Gojkovich/Getty Images
Losing coordinator Mike Heimerdinger to another team in the offseason would be greatly detrimental to the Titans continued progress on offense.If the Bears can manage a win Monday night over Minnesota at Soldier Field and a win at Detroit to finish the season, it can only help head coach Lovie Smith's job security.
And that would be a good thing for Tennessee.
If the Bears are in the market for a head coach to come in, fix Jay Cutler and get the Bears moving in the right direction, you'd have to expect Titans offensive coordinator Mike Heimerdinger would be on their list.
Heimerdinger has not only helped resurrect Vince Young, a quarterback who many thought was incapable of playing effectively in the league, but he also has a good history with Cutler and ties to the area.
As a high-ranking offensive assistant for Mike Shanahan in Denver in 2006 and 2007, Heimerdinger helped make Cutler the hot commodity the Bears were willing to give up so much to get.
As a 57-year old coach in line for his first NFL head coaching job, you'd figure his price tag would be reasonable. Money would be a factor for Chicago, which couldn't have afforded to court Shanahan even if he wasn't in line to take over in Washington.
To top it off, Heimerdinger grew up a Bears fan in Dekalb, Ill., west of Chicago.
Chicago's gain would be a big setback for the Titans, who are already facing an offseason that's expected to include a lot of roster turnover with veterans including Keith Bulluck, Kevin Mawae, Alge Crumpler, Kyle Vanden Bosch and Nick Harper due to become free agents.
The offense doesn't face a lot of change, except perhaps a bit of offensive line shuffling.
But if Heimerdinger were to leave?
The defense's adjustment to Chuck Cecil as its new coordinator after Jim Schwartz was hired in Detroit was part of the Titans' 0-6 start this season. The offense has settled into Heimerdinger's scheme, reinstalled when he returned to the team in 2008. It would hate to face a similar circumstance to the Schwartz-Cecil transition next year and it could really stall Young.
I asked three key Titans on offense what they thought.
"We have adjusted to every situation or circumstance that you could possibly have, we keep finding ways to get better and not give up and he's a huge part of it," Crumpler said. "I think it would be a serious blow."
"That definitely would be a good fit," tight end Bo Scaife said. "But every offense needs players to make things work. Dinger's done a good job with V so far. I think this is just the start of something that could be special here for our organization and out offense. That would be a blow."
Said Justin Gage: "For him personally I think it would be good. It'd be a chance for him to move up to a head coaching spot, be in a city he's familiar with and loves and a quarterback he's familiar with. For me? I think it would set us back. …If I was going to be selfish, I'd make him stay here."