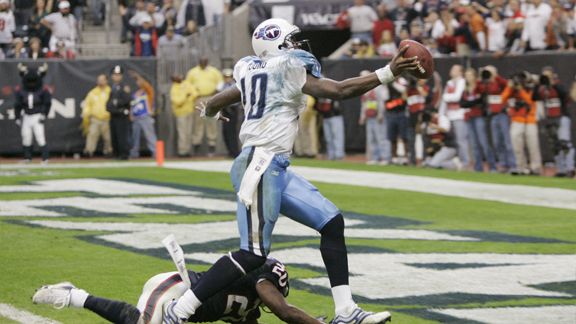 AP Photo/David J. Phillip
Nearly three years after scoring an overtime touchdown to beat Houston, Vince Young hopes for similar success Monday night.HOUSTON -- It qualifies as ancient history now, and several Titans didn't remember the specifics.
But when Vince Young burned a big blitz on a third-and-14 from the Houston 39-yard line on Dec. 10, 2006 for an overtime touchdown, he pulled off a play that symbolized how things can work for him.
The rookie made an electric play and got great blocks from Chris Brown and Bobby Wade, who paved the way to the end zone. Part of the reason that path opened, however, was Young had called a route wrong in the huddle.
The in-cut that was supposed to happen would have likely put a safety in his way to slow him down or change his course. The out-cut that took place instead just happened to clear out some of the space he was able to use.
Center Kevin Mawae worries about the protections, not the routes.
But if it happened that way then, he said he wouldn't have been surprised. And if it happens that way now, he won't either.
"What I do remember is they had everybody coming and we knew if we just picked it up and he hit the hole, there is nobody," Mawae said. "Because if they're bringing seven guys, three guys are covering receivers, you've got one guy out there. And that's what happened. ...
"He's that kind of a guy, that's the thing he brings to us. He has the ability to make everybody look silly on a play that should have never worked in the first place just because of his athletic ability. He's got the ability to make everybody right when something's gone wrong."
Surely the fervor for Young at Reliant Stadium will be different Monday night than it was that day -- those Texans were 4-8, these are 5-4 with a chance at a playoff spot.
Still, he will have plenty of support.
His family will be in a luxury box, some wearing throwback Houston Oilers jerseys with his No. 10. Plenty of Texas alumni and/or fans will still look at him and be reminded of the Rose Bowl performance and resulting national championship for the Longhorns. Others have been following him longer than that, back when he was a kid drawing attention in Houston.
Texans linebacker Brian Cushing told me Friday he hadn't heard much VY buzz in town but expects some, which is understandable based on what the quarterback did for the city and state.
Fans may be more partial to the home team, but a lot will hope Young does well in a loss.
"VY is the mayor of Houston," Titans fullback Ahmard Hall said. "He thrives in big moments and he'll have another big moment on Monday night. He's definitely excited to be the starting quarterback going back there."
Young played down the mayor idea, saying only that he's a Houstonian.
That game-winning touchdown sprint at Reliant Stadium ranks behind only the Rose Bowl for him, he said.
"That's a fairy tale, a dream come true," he said.
He's 3-0 since taking over for Kerry Collins, and these Titans feel like a completely different team than the one that lost to the Texans in Week 2.
"Him getting out of the pocket, running an option, running a boot, anything he does, his ability to make big plays running the football adds a big-time dimension that you have to worry about defensively," Texans coach Gary Kubiak said. "They've been exceptional at what they've been doing ... and protecting the ball extremely well along the way.
Young's always been a prime-time guy. Can he help mess things up for his hometown team in his first chance under the spotlight in a long time?