The suggestion, from Dave in Baltimore, MD: About 9:30 left in the Colts/Broncos game, Colts on their own 20 facing 3rd and 10. Manning hits Austin Collie on a curl for a 23-yard completion, moving the chains, keeping the drive alive, and eventually putting seven points on the board to salt the game away. [Nilay Baxi in Ocean, NJ and unionjackwh joined Dave's suggestion.]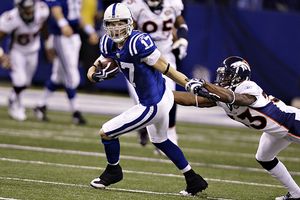 AP Photo/Michael Conroy
Austin Collie's 23-yard reception in the fourth quarter against Denver was a key play in the Colts win.The situation: Denver's just cut Indianapolis' lead to 21-16 and with 8:57 left in the fourth quarter the Colts face a third-and-10 from their own 20-yard line. Peyton Manning's been cold -- completing just one of his first 11 second-half throws with two picks.
Manning lines up in the shotgun, flanked by Dallas Clark on his left and Joseph Addai on his right. Pierre Garcon is lined up right, Austin Collie is in the slot left and Reggie Wayne is wide left.
The Broncos are in nickel, with Champ Bailey on Wayne, Andre Goodman on Garcon and Alphonso Smith on Collie.
What I saw unfold after the snap: Manning takes the shotgun snap, drops back two steps and bounces three times, with plenty of time to assess and release.
Lined up as left end, Elvis Dumervil hesitates and waits to see if he needs to cover anyone out of the backfield, drawing no real attention. Once right tackle Ryan Diem sees Dumervil is staying, he shifts inside to help Kyle DeVan and they cancel out right defensive tackle Vonnie Holliday.
D.J. Williams blitzes from right linebacker and is handled by center Jeff Saturday.
Lined up as left linebacker, Wesley Woodyard crosses the path Williams took and tries to get to Manning by squeezing between Saturday and left guard Ryan Lilja. Addai picks him up and Clark is nearby in case he's needed, which he isn't because the ball is out by the time Ayers recovers from Addai's initial stop.
Right end Robert Ayers comes out of his stance, waits for Clark or Addai to emerge from the backfield. When neither comes he waits and then tries to chase the play. Left tackle Charlie Johnson realizes he doesn't need to get Ayers, so he looks to help Lilja who's already doing just fine against right defensive tackle Darrell Reid.
Collie is looking inside as the snaps comes, gestures inside with his shoulders and hands, then beats Smith off the line to the outside. As he gets downfield, he leans inside selling a curl and buying himself the space he wants before breaking off his route at about the 34 and turning back outside to face Manning's pass while standing on the "3" of the "30" on the Lucas Oil Stadium turf. Smith slips off him and is face down as Collie cuts outside where Wayne is blocking Bailey. Safety Brian Dawkins arrives to make the tackle after a 23-yard gain.
Result: The Colts eat 7:19 on the drive, ending it with Clark's third touchdown catch that puts them ahead 28-16 with only 2:25 remaining for Denver.
Ultimate outcome: Denver moves just eight yards in four plays, giving the ball back with 1:51 remaining in the game. Manning kneels three times to run out the clock and seal up the Colts' 13th win.